AT&T 3G Acer Aspire One price drops to $79.99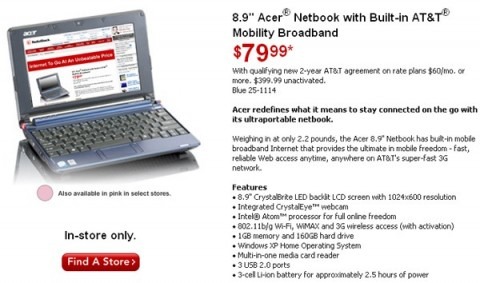 AT&T have snipped 20-percent off of their 3G-equipped 8.9-inch Acer Aspire One netbook, bringing the budget ultraportable down to just $79.99 with a new, two-year contract.  Available only through Radio Shack, the unactivated, contract-free price remains at $399.99.
On its first launch with the carrier, the 3G-enabled Aspire One was priced at $99.99 with a data contract.  This extra discount is tipped as AT&T's early strike against the upcoming Verizon HP Mini 1000, a CMDA EVDO-enabled version of HP's 10-inch netbook.
Of course, step outside of the US and free 3G-equipped netbooks are more common than partial subsidies.  The hotly-contested European markets have had "free" netbooks – with two-year contracts – since September last year.
[via Engadget]