Acer Aspire One with integrated AT&T 3G on sale Sunday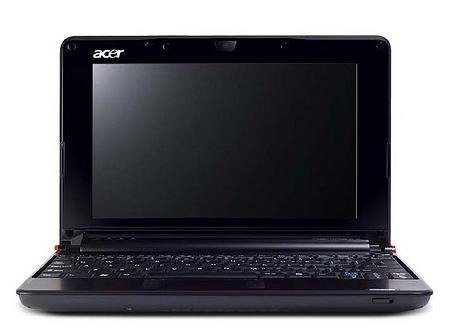 We may receive a commission on purchases made from links.
Acer's Aspire One will be available with an integrated 3G modem for just $99.99 as of December 14th, as long as you agree to two-years of mobile broadband service from AT&T.  Set to go on sale exclusively at RadioShack, as leaked earlier this week, the netbook is the 1GB RAM/160GB hard-drive model; it has an 8.9-inch display, WiFi b/g and comes in piano black finish.  However despite the low purchase price, you can't exactly call this a bargain.
AT&T's cheapest mobile broadband contract with the 3G-integrated netbook is $60 per month.  Over the course of the two-year contract, that adds up to $1,440; factor in the initial cost and you're looking at a total figure of almost $1,540.  The non-3G Aspire One of a similar spec costs under $380 on Amazon at present.
Still, if you think you'll be happy with a 1.6GHz single-core Atom processor for two-years, and you value the convenience of an integrated 3G system above all else, this could be the package for you.  If you'd rather do things more DIY, check out this post about fitting your own internal 3G modem.
Press Release:
RadioShack Introduces 3G Netbook Utilizing AT&T's Mobile Broadband Service to Help People Stay Connected

Innovative portable notebook technology for $99.99 when combined with qualifying AT&T mobile broadband service

Starting Dec. 14, RadioShack Corporation (NYSE: RSH) becomes the first major U.S. retailer to offer an ultra-lightweight, mobile netbook Internet device with integrated 3G wireless technology. Netbooks, designed to fulfill people's growing needs for mobile access to Internet applications, are widely expected to be a hot growth area for the computer industry. The unique combination of technologies created for this launch to help people stay connected enhances RadioShack's reputation for offering innovative solutions at affordable prices.

The Acer Aspire one netbook is priced at $99.99 for customers who sign up for a qualifying two-year AT&T DataConnect mobile broadband service agreement with plans starting at $60 a month. Once activated, this netbook allows people to easily access the Internet anywhere within AT&T's wireless network. The offer is available in 4,400 RadioShack company-operated stores through Dec. 24. Prices may vary outside the continental U.S. See stores or visit http://www.RadioShack.com for complete offer details.

"Many people internationally are already enjoying the portability, on-the-go connectivity and affordability of this emerging new technology," said Peter Whitsett, RadioShack's executive vice president – merchandising. "We are proud to introduce this concept in the U.S. by offering a netbook with integrated 3G functionality in addition to full Wi-Fi capability.

"RadioShack is offering this innovative technology solution at a very attractive price through our collaboration with Acer and AT&T," he continued. "Helping people stay connected during these challenging economic times illustrates our continued commitment to meeting their personal technology needs affordably."

The lightweight, 2.44-pound netbook includes 1GB memory, 160GB hard drive, built-in memory card readers and Windows XP software that supports the portable connectivity needs of commuters, students, travellers and mobile professionals. This allows everyone to keep in touch via email, participate in social networking sites such as Facebook or Twitter, use the built-in Web cam and crystal-clear LCD screen for video conferencing with family, friends and business associates, conduct online research, and a host of other online functions.

The Acer Aspire one 3G netbook comes equipped with the following features:

– Weighs 2.44 pounds

– Ultra-compact size measuring 9.8" x 6.7" x 1.1" (W x D x H)

– Stylish piano-black finish

– Built-in 3G capability

– 802.11b/g wireless (Wi-Fi)

– 8.9-inch LCD screen

– Built-in Web cam

– Intel(R) Atom(TM) processor

– Windows XP(R) Home

– 1GB memory

– 160GB hard drive

– Built-in memory card readers (dedicated SD and 5-in-1)

About RadioShack Corporation

RadioShack Corporation (NYSE: RSH) is one of the nation's most experienced and trusted consumer electronics specialty retailers. Operating from convenient and comfortable neighborhood and mall locations, RadioShack stores deliver personalized product and service solutions within a few short minutes of where most Americans either live or work. The company has a presence through approximately 4,400 company-operated stores, 1,400 dealer outlets in the United States and nearly 700 wireless phone kiosks. RadioShack's dedicated force of knowledgeable and helpful sales associates has been consistently recognized by several independent groups as providing the best customer service in the consumer electronics and wireless industries. For more information on RadioShack Corporation, or to purchase items online, visit http://www.radioshack.com.