RadioShack Ad Leaks Showing Subsidized Acer Aspire One For $99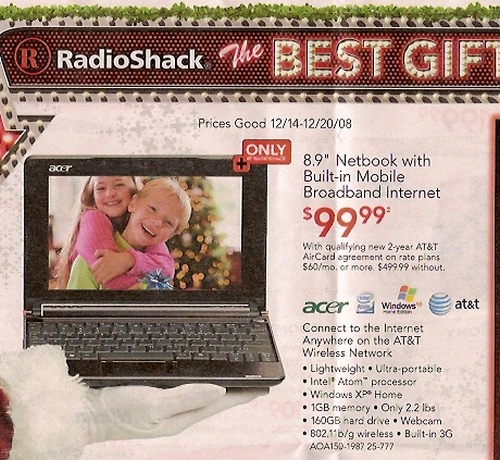 A leaked RadioShack ad surfaced showing the Acer Aspire Once (with a 160GB hard drive, 1GB of RAM, and Windows XP) for $99 for signing up for a 2-Year $60/month (or more) data plan through AT&T. The Acer Aspire One has a list price of $499, making this too good to pass up.
Cell phone carriers can now subside the cost of netbooks in exchange for a service agreement, much like they do with mobile phones. From what we can read in the flyer, RadioShack will start this amazing deal just in time for Christmas on December 14th. If you're dedicated to sticking out your two-year plan, we suggest picking one of these up.
However if you're on the fence about it just take a look at the numbers. The Acer Aspire One alone costs $499; with the play you will be paying about $1,440 over the course of two years, that's almost three times the amount of the netbook itself. The $60 a month fee may seem a little steep to mobile customers, but given a lot of use this may in the end be a great value. There is always the option of buying the Aspire One straight out and getting a mobile broadband card for much less a month with the option to use it with any computer you wish. It all comes down to one question, is this deal worth it?