Acer Aspire One netbook SlashGear Review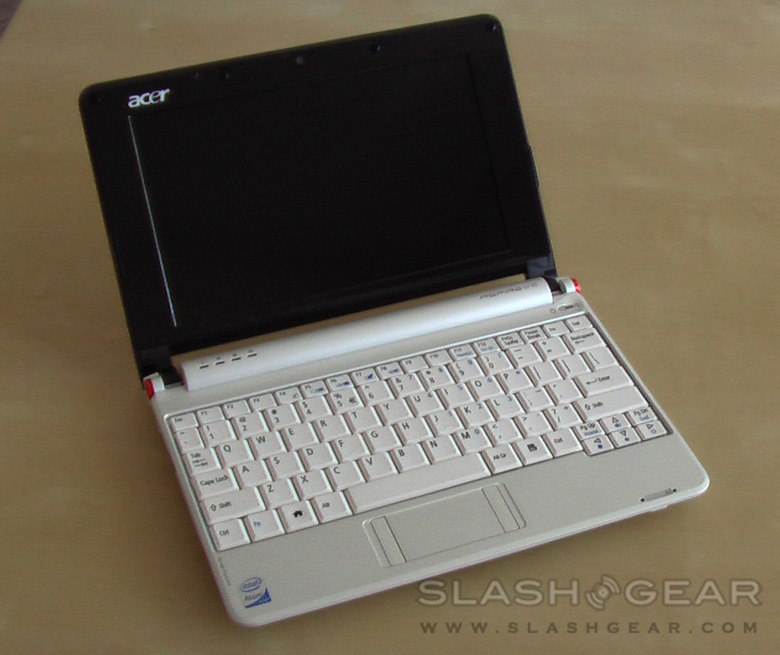 While there's no shortage of variety in the netbook market, one of the most commonly recommended – and certainly most commonly searched for here on SlashGear – is the Acer Aspire One.  With a slick casing, brand name recognition and relatively large degree of flexibility in specifications, even with new rivals from Dell and others, Acer is holding its own.  We've had the Aspire One in for the past fortnight to put it through its paces; check out the full SlashGear review after the cut.
Announced in June 2008, Acer offers multiple versions of their netbook.  Each uses Intel's N270 1.6GHz Atom processor, but it can be paired with either 512MB or 1GB of RAM, and a choice of either an 8GB SSD or 120GB or 160GB hard-drive.  Operating system is either Windows XP Home or Linpus Linux Lite, and there are several color options.  Battery can either be a three-cell or six-cell pack.
Whichever you choose, you'll get an 8.9-inch 1024 x 600 LED-backlit display, integrated microphone, stereo speakers and webcam, WiFi b/g and a memory card slot (capable of reading MMC, SD, MS, xD and other formats).  Interestingly, Acer also include a second SDHC slot, intended for more permanent storage expansion; the multi-format reader is there for quick transfer of files, or viewing photos from your digital camera, while the SD slot means you can add a chunk of extra capacity.  This is most useful in the SSD-based Aspire One, obviously.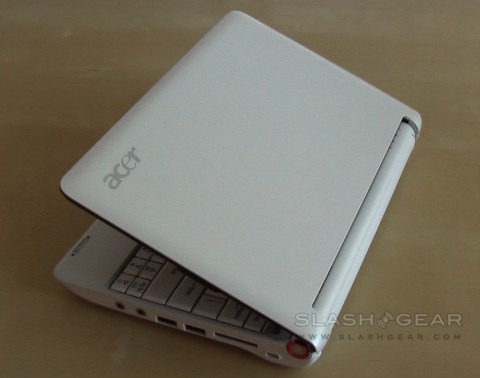 Our review unit was a white, Linux-based Aspire One, with 512MB of RAM and the SSD drive.  In the box is a relatively small AC adaptor, soft slip-case, installation media (though obviously there's no optical drive to read it with) and printed documentation (including both a quick-start guide and full manual).  You can see the video unboxing here.
At 9.8 x 6.7 x 1.1-inches, the Aspire One is a little wider than the ASUS Eee PC 901 (which we reviewed back in June) but is thinner and not as deep; it's also a little lighter, at 1.04kg versus around 1.1kg for the ASUS.  Acer have used a mixture of matte and gloss plastics, with a high-gloss lid and screen-surround, while the lower half of the netbook is matte.  It sounds like it shouldn't work, but it does, helped no doubt by the high-quality plastics and the sturdy hinge.  Ports are split between the left and right sides: power, VGA out, 10/100 ethernet, one USB and the SD slot on the left; microphone input, headphone output, two USB ports, multi-format card reader and Kensington lock slot on the right.
On the front edge is a switch for toggling the WiFi on and off and underneath are vents and the speakers, together with a hatch to access what would be a Mini-PCIe slot if Acer had soldered the connector in.  Running along the hinge section are four LEDs, indicating battery status and drive activity, as well as caps-lock and num-lock.  The keyboard has 84 keys in total, with a full function row and several Fn combinations to adjust brightness, volume, internal or external display and enter sleep mode.  There's also the useful ability to switch off the touchpad for times when you're using an external mouse.
In all, aside from one notable point, the build quality and design of the Aspire One doesn't disappoint.  That one contentious point is the touchpad or, more accurately its buttons.  The slight depth Acer shaved off of the Aspire One required – or was fulfilled by – moving the left and right mouse buttons from their usual spot underneath the touchpad to flank it on either side, and for a regular laptop user it's a real challenge to get used to it.  The left button no longer falls naturally under the right thumb when mousing, and requires either an awkwardly-twisted wrist or a switch to using the index finger.  They're loud, too, and while we usually appreciate buttons that you know whether you've pushed, the Acer's tip over into sounding a little cheap.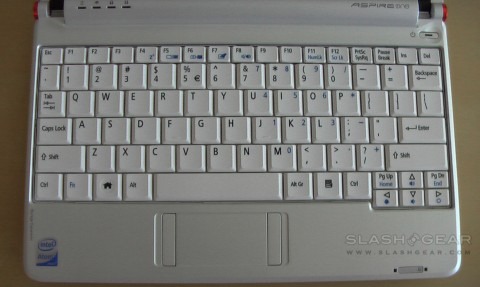 It's a real shame, because the Aspire One keyboard is a surprising pleasure to type on.  Personally I may be a little biased, as my daily-driver is a Sony VAIO TZ, but others who have tried the Acer have had little difficulty acclimatizing to its compact keys.  Key travel is 1.6mm; less, certainly, than full-sized notebooks but comfortable enough overall.  And of course, there are three USB ports for plugging in keyboards and mice if larger peripherals are needed.
Like most other netbooks currently available, the cheaper Aspire One models use a Linux-based OS rather than the more familiar Microsoft Windows.  In the Acer's case, the distro in question is Linpus Linux Lite, and while that might seem enough to send novice users running for cover it's actually one of the most usable netbook interfaces we've played with. 
Turn on – which takes 24 seconds from cold, or 12 seconds from sleep mode – and you're presented with four panels: Connect, Work, Fun and Files.  Connect offers Firefox, a multi-client IM app and email app, with an RSS reader and links to Wikipedia, Google Maps and Hotmail in an extended menu.  Work offers Writer, Spreadsheets and Presentations, all from the OpenOffice 2.3 stable, with Calendar, Contacts, a calculator and notes app in the extended menu.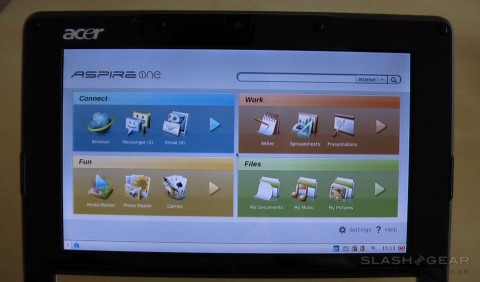 Fun offers a surprising choice of games and media, with a media player, photo viewer, webcam and paint app, together with eleven games including Tetris and Mahjong.  Finally Files is the expected file management system, with shortcuts to music, photos and videos.
Consistent across all the menus is a search bar at the top, which can be switched on the fly between an internet search or a local file search, and a status bar across the bottom of the screen.  That offers a quick jump to the home screen, as well as showing status icons for keyboard language, network connectivity, battery and volume.  Finally it shows a clock and the power button, with choices to lock, sleep, restart or shutdown.
It's all clear and straightforward, and eminently usable.  Yes, you can get to Linpus underneath, but the average owner won't ever want to.  It's also possible to load new software, but the preinstalled apps will likely be enough for most; that then reduces the chance of system instability, unlike a Windows-based machine which almost seems to tempt modification (and then bite you for it ten apps down the line).
What the Aspire One will be used for most is internet access, and here it certainly holds its own.  Firefox behaves exactly as it does on a regular desktop, loading in around two seconds, and while the 8.9-inch display might not be as big as many are used to, it's colorful and bright.  It makes sense to hit F11 for full-screen mode to take advantage of every inch, though.
Word processing is similarly uneventful, and although Writer takes around four seconds to load, once up it'll present no hurdles to most users.  The media player is happy with the regular formats, though DRM-encrypted files aren't welcome.
In a way, then, it all comes down to battery life.  The Aspire One is certainly a surprising pleasure to use – if you've never had a solid-state-based notebook, you'll be shocked at how liberating it is to move it around without concern for a "delicate" hard-drive – and that makes you want to keep on using it.  Acer rate the three-cell battery of our test unit as good for three hours, a figure we never reached.  With WiFi on and display brightness at medium (the preset for battery use) the Aspire One lasted just over two hours and twenty minutes; turning off the WiFi squeezed out an extra twenty minutes.  Frustratingly, battery drain during sleep mode was higher than we expected; left overnight, the netbook was down almost 20-percent in the morning.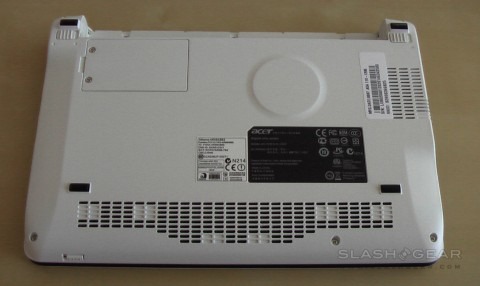 It's worth noting that Acer's estimates depend on your storage format: up to 3hrs on SSD machines, but 2.5hrs on those with hard-drives.  Based on our experience we'd expect Aspire One units with traditional hard-drives to last around two hours.  Acer also offer a six-cell pack, rated for up to 5.5hrs with a hard-drive netbook; it'll add bulk, but the price is relatively low (around $50 more) and any extra longevity would be welcome.
No netbook is perfect, but the Aspire One makes a good hash at a number of important factors.  Usability of the Linux version is high, better than that of the Eee we'd say, and aside from a couple of design blips the hardware is reassuringly high-quality.  Battery life isn't great, but on the plus side the AC adapter is reasonably compact, and while the Eee PC 901 has more SSD storage as standard, SDHC cards are a cheap and easy way to add capacity to the Acer.
Where it really scores is price.  The original netbook concept was something cheap, and the Aspire One is now available from a bargain $329.99.  That gets you the model we've been testing; for $399.95 you can have the 1GB/160GB version with XP Home and the six-cell battery.  If 8GB of storage isn't enough, but you still want to stay solid-state, Amazon have 16GB SDHC cards from around $30.
The Aspire One has been a pleasant surprise.  There's a feeling that Acer have developed everything, made every design decision and hardware choice, with the mantra "don't price it out of the market" ringing in their ears.  The end result could've been a cheap, flimsy, carbon-copy netbook, but turned out to have more neat touches and design strength than machines $200 more expensive.  No, it's not for everyone, but if web browsing, occasional documents and portability are your daily chores, the Acer Aspire One deserves your consideration.