Atlona DVI to Mini DisplayPort converter for iMac input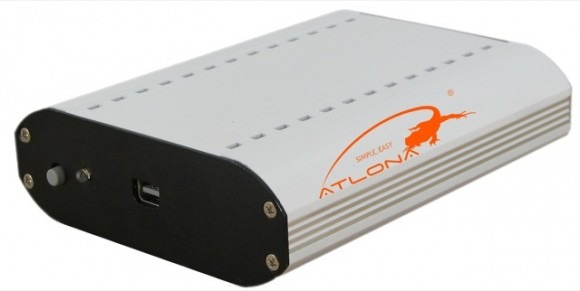 One of Apple's new iMac's most nifty features is their ability to work as a standalone display for an external video source, such as another Mac or a console.  Unfortunately that means your external source needs to have a Mini DisplayPort output, something in short supply unless you're already toting a recent Apple product.  Now Atlona Technologies have stepped in with the DP200, a DVI to Mini DisplayPort converter that's officially compatible with the 21.5- and 27-inch iMacs.
The clever little box means you can hook up any DVI output to the iMac's Mini DisplayPort input, or indeed to the input of Apple's recent Cinema Displays too.  It'll also preserve EDID and HDCP info, meaning there shouldn't be any copyright-related issues of content not displaying, and it supports resolutions up to 1920 x 1200.
Of course, it's still not ideal if you were wanting to use an HDMI output, but we imagine Atlona have something to deal with that up their sleeves too.  The Atlona Technologies DP200 is available now, priced at $179.
Press Release:
Atlona Technologies innovative DVI to Mini DisplayPort converter, the DP200, officially compatible with iMac 21.5 and iMac 27" displays.

Atlona Technologies announces news on their DVI to Mini DisplayPort converter, allowing compatibility with iMac 21.5 and iMac 27" displays.

Atlona Technologies DVI to Mini DisplayPort converter, the AT-DP200, has quickly made an impact on all Mac users as well as the technological world as a whole. This innovative converter has made waves being the first of its kind to eliminate the issues that plagued many Apple users had faced purchasing their computers before 2009, and wanting to use the Apple Cinema 24" or any of the newer and upcoming Mini DisplayPort monitors. Atlona technologies officially finished a new round of testing using the iMac 21.5" and the iMac 27" with this unique solution.

Atlona Technologies prides itself on creating the very solutions users need to connect nearly any desired source to any display needed. Seeing that there was indeed a need that had not been met, the first ever conversion box that would allow conversion of DVI to Mini DisplayPort while maintaining the displays optimal resolution was created. Unlike recent copycat products, the AT-DP200 inputs DVI and outputs Mini DisplayPort signal while passing along all EDID and HDCP information. This device converts while allowing your computer to scale to the optimal resolution offered by your display up to 1920 by 1200.

Realizing what a true necessity this product was and the many new monitors continuously in development, Atlona made sure to go directly to the source. The AT-DP200 was put through extensive testing in Apple's compatibility lab, placing it up against every single Apple computer with a DVI port, and every monitor featuring Mini DisplayPort. The DP200 was also placed through PC interoperability testing with all standard DVI video cards. This device will allow use of any Mini Display port product with and DVI graphics card, meaning the new Apple 24" Cinema Displays, the iMac 21.5" or the iMac 27" can be used by those with DVI Macs.

The Atlona AT-DP200, DVI to Mini DisplayPort converter immediately fell right in line with the rest of the bleeding edge products designed to keep the AV world connected. This unit has finally given all Mac users looking to use their older devises on newer Mac monitors exactly what they have been waiting for. The leading-edge AT-DP200 is officially available today with an affordable MSRP of S179.00.