Apple's 27-inch iMac review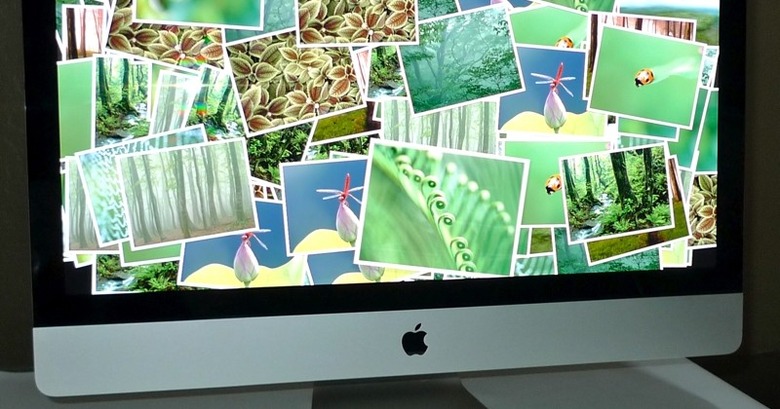 It's the biggest all-in-one Apple have ever offered, not to mention the fastest and most media-centric, and it's pretty much guaranteed to hypnotize anybody wandering into their local Apple Store. The hyperbole practically writes itself, but at the end of the day is the 27-inch Apple iMac more than just a desktop trophy? Check out the full SlashGear review after the cut.
Our iMac is the entry-level 27-inch model, with a 2560 x 1440 16:9 display, 3.06GHz Intel Core 2 Duo processor, 4GB of DDR3 memory and a 1TB 7,200rpm hard-drive. On the side there's the same 8x SuperDrive as its predecessor, while graphics are courtesy of an ATI Radeon HD 4670 with 256MB of dedicated memory. Connectivity includes four USB 2.0 ports, a single FireWire 800, Mini DisplayPort (which also supports video input; more on that later), audio in/out and gigabit Ethernet, along with WiFi a/b/g/n and Bluetooth 2.1+EDR.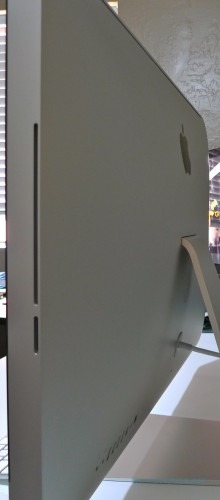 That's the standard specification for the 27-incher, and it's shared by the top-spec standard configuration of the 21.5-inch iMac. That smaller desktop has a 1920 x 1080 LCD and loses the Mini DisplayPort input functionality, while the entry-level model gets a 500GB 7,200rpm hard-drive and NVIDIA GeForce 9400M 256MB graphics. As for the top-spec 27-inch iMac, deliveries won't start until November, whereupon buyers will get a 2.66GHz quad-core Intel Core i5 processor or, as a cost-option, a Core i7 chip.
You'd have to search hard to find somewhere to critique Apple on the new iMac's build-quality and design. The black plastic back panel of the old model has gone, replaced by a gently curved aluminum plate and flush-mounted ports, and the black glass extends right to the very edge like a high-end HDTV. Newly notched out just below the DVD drive is an SD card slot, something we're particularly glad to see given how media-centric the iMac is. Speakers are hidden under the bottom edge, and like the 24-inch Apple Cinema Display they manage to put out a surprising amount of sound. That, Apple tells us, is thanks to having more chassis room to fit better drivers in, each powered by a 17W amp. With a WiFi network connection and the included Bluetooth keyboard and Magic Mouse, the iMac can truly be a one-cord computer.
As we've seen with recent displays on Apple's desktop and mobile range, their choice of panels keep getting better. In addition to native 16:9 widescreen, making them ideal for movie content, they use in-plane switching (IPS) and LED backlighting; the payoff is incredibly vivid color, huge viewing angles and impressive contrast. That given, it's all the more frustrating that Apple don't include – or at least offer as an option – a Blu-ray drive with the iMac. The 27-inch model, particularly, would make for the perfect HD workstation, both for consuming and producing high-definition content, and Apple's ongoing reluctance to step up from the ageing SuperDrive is increasingly bizarre. iTunes, to be fair, offers 720p downloads, but that's still not the 1080p quality the screen is crying out for.
We expected a strong showing from Geekbench, and the 27-inch iMac didn't disappoint. An overall score of 4650 was bolstered by strong processor floating-point performance (6618) but held back by memory bandwidth (2253). It'll take a shot of Nehalem to bring the iMac up to Mac Pro standards, however; the 2.66GHz Xeon Mac Pro we reviewed a few months back scored almost twice as highly as the iMac in Geekbench, suggesting that hardcore A/V and 3D editors would do best to save up for the more potent desktop.
Still, for the sort of home movie editing, photo processing and iTunes video playback that most iMac users will be doing, the standard configuration should be sufficient, and of course there's the upcoming Core i5 and i7 models to pacify the performance crowd.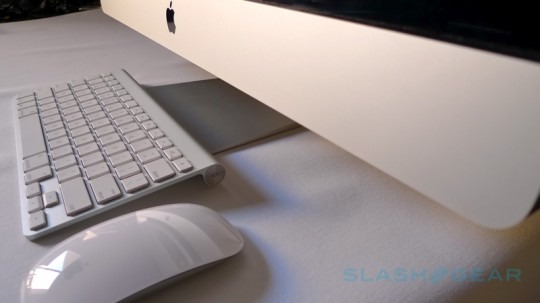 Apple's switch to standard wireless peripherals is a welcome one, and the Magic Mouse is particularly intriguing. An attempt to bring Apple's much-vaunted multitouch control from the MacBook and MacBook Pro trackpads to the desktop, while the whole of the mouse clicks down as with the previous Mighty Mouse, the trackball has been replaced with a touch-sensitive surface. The entire top of the Magic Mouse, roughly from the Apple logo upwards, has the same sort of touch sensors as a trackpad does, recognizing single and two-finger touch and gestures. As well as differentiating between left and right clicks, the Magic Mouse supports 360-degree scrolling, two-finger swipes to move between pages, and clicking with one finger while using a second to scroll so as to select large quantities of text.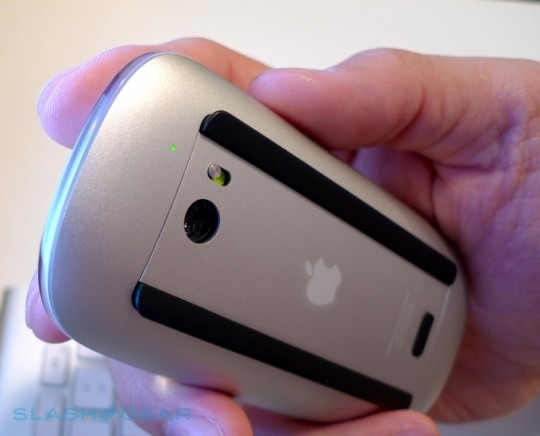 There's no pinch-zooming, however, which seems less of a loss than you might expect since trying to fit two-finger gestures onto the surface of the mouse while at the same time gripping it isn't 100-percent intuitive. Still, that's easily made up for by the support for single-finger "flicks", which optionally offer momentum-style scrolling as on the iPhone (you can turn it off and have proportional scrolling instead, though you'll need to delve into the system settings to do so; there's no way to quickly switch between). It's also worth noting that those who prefer the battery-free simplicity of wired peripherals can choose them individually as no-cost options during the Apple order process, including a choice of wired keyboard with and without numeric keypad.
Frustrations with the iMac are few and far between, to be fair; though considering the premium price they're worth flagging up. Aside from the Blu-ray issue – which admittedly could be solved with a USB Blu-ray drive, but is hardly in keeping with the iMac's minimalist aesthetic – we also wish Apple had fitted a TV tuner or at least offered it as an internal option. That way the iMac really could replace a standalone HDTV in a kitchen or bedroom. As it is, like Blu-ray you could use a USB tuner but it's an extra hassle when rival PCs often integrate TV as standard.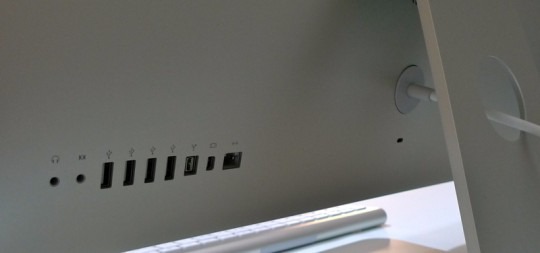 Our other complaint comes down to taste, and as with the MacBook Pro series it relates to the iMac's highly glossy display. There's no option to choose a matte-finish panel, and given the sheer expanse of glass to work with it's likely you'll see a fair amount of reflections. The IPS-aided viewing angles did mean we could tilt the iMac, preserve image quality and avoid all but the most intrusive of reflections, but, again, we'd at least like the option of a matte display. Still, Mini DisplayPort input (when the correct cables go on sale) and the ability to have two full webpages on-screen at once makes for a convincing argument, and to be honest the iMac's display is hard to critique.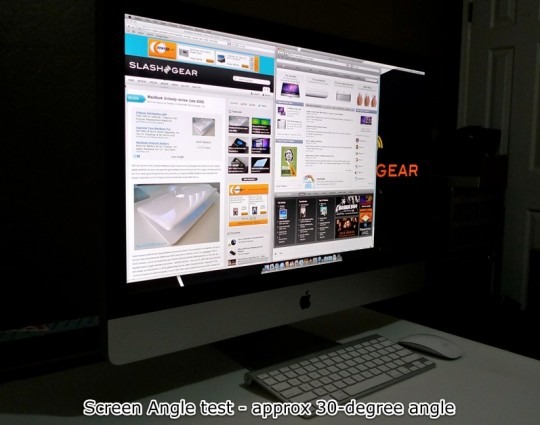 Picking the iMac, then, is one part brain and one part heart. Apple have taken a capable computer and clad it in one of the best all-in-one designs to-date, matching it up to an eye-catching and entrancing display and paired it with intuitive, attractive peripherals. At $1,699 upwards for the 27-inch iMac (the 21.5-inch starts at $1,199) it's not a cheap purchase, but Apple's recent financial report has shown that there are plenty of people willing to pay a premium for high-end design and the aesthetic ease of OS X. For those buyers, this latest-generation iMac is unlikely to disappoint.