ASUS ZenScreen is a portable USB-C display for your laptop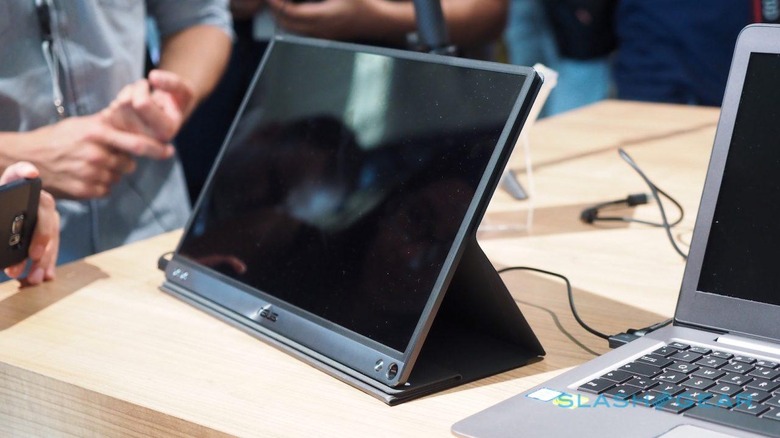 ASUS' big announcement today may have been the ZenWatch 3, but if it's a secondary screen for your ultrabook not your smartphone that you're interested in, there's something new for you too. The ASUS ZenScreen is, as the name suggests, a portable display: effectively just the top-half of a notebook with a USB-C connection.
Why might you want to carry a complete display in your bag? Today's ultraportable notebooks, like the MacBook or ASUS' own ZenBook 3, are certainly compact and easy to carry, but they sacrifice screen size to achieve that.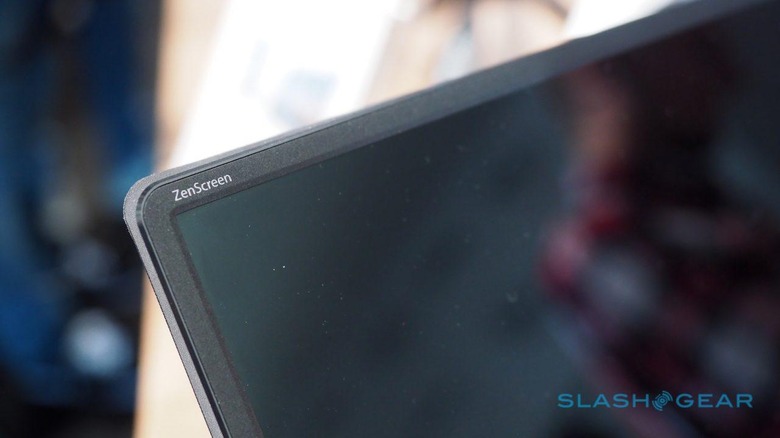 Plug in a ZenScreen, however, and you have double the space. It's a 15.6-inch panel – though only running at Full HD resolution, not the 2K or higher that many current ultrabooks offer – that hooks up via a hybrid USB-C port, usable either with a regular USB-C port on your notebook or via a USB Type-A port.
Whichever you're plugging the ZenScreen into, that single cable provides both data and power. The screen itself is on the slim side, 8mm thick and 800 grams, while the bezels around the display itself are 6.5mm thick.
ASUS says that's 60-percent slimmer than comparable portable displays, not that it's an especially saturated market.
Also on offer is a folio case that will hold the ZenScreen up horizontally or vertically, and which the company says adds just 1 mm to the thickness. If you don't have it, there's also a hole in the lower right corner: slot a pen through that, and you can prop the ZenScreen up without using the case.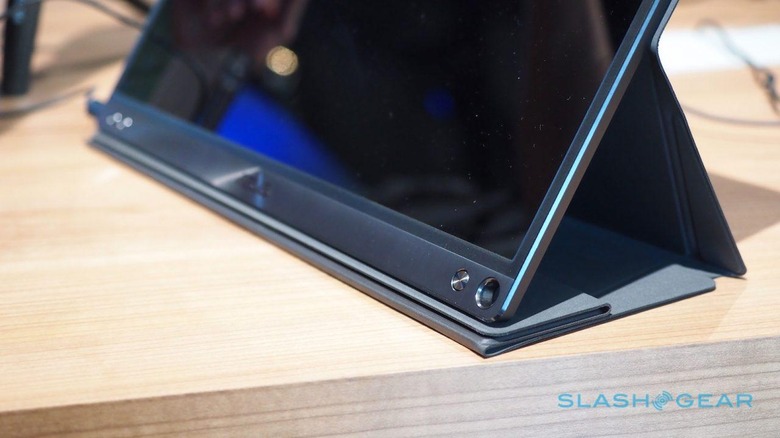 Of course, then your sleek portable display is at the mercy of whatever else is in your bag.
It's certainly a niche device, but if you're a road warrior who wants the benefit of a dual-screen setup but can't put a regular USB-C monitor like Acer's H277HU into your bag, the ZenScreen might just be the answer.
Unclear right now is whether plugging the ZenScreen into a smartphone with USB-C and video-out support will work, or if the display is laptop-only.
ASUS is yet to confirm US pricing, but in Europe the ZenScreen MB16AC will be priced at €269, or the equivalent of roughly $299.