Acer H277HU USB-C Monitor Review: Your MacBook's best friend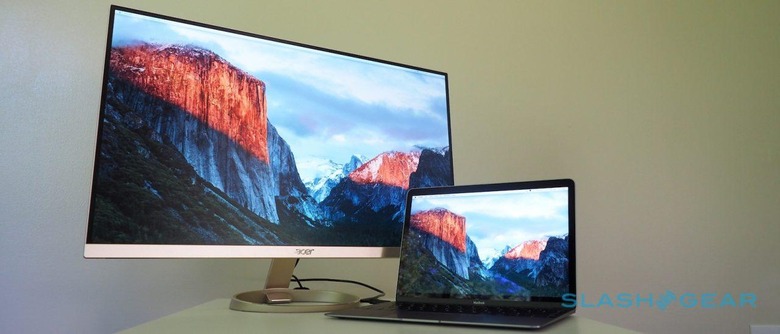 USB-C is our salvation from cable madness, at least that's what they tell us, but as early adopters of Apple's MacBook or other cutting-edge hardware have realized, reality hasn't caught up to the promise. The theory, and indeed the core technology, is sound, but it's illustrative of the dearth of peripherals that the Acer H277HU display is causing as much interest as it is. Yes, you can plug it into your old-school PC, but this is really all about USB-C.
$499.99 gets you 27-inches and 2560 x 1440 WQHD resolution. Acer gives it an anti-reflective coating, too, which seems to work, though does highlight any greasy fingerprints that might stray across the panel. Stereo 3W speakers are sufficient in a pinch, but unsurprisingly lack in bass.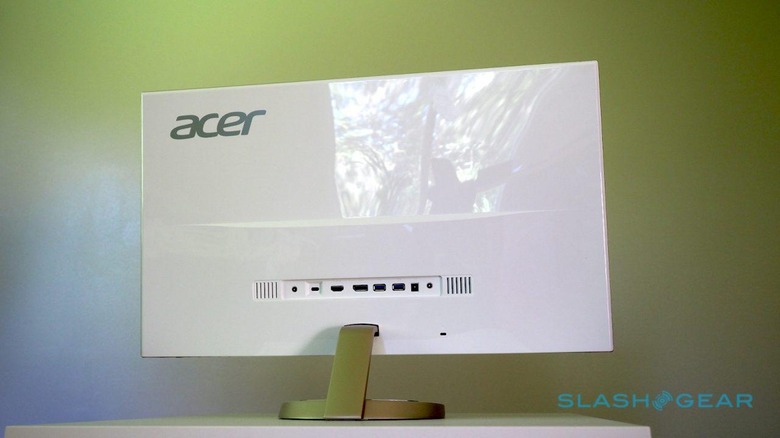 The monitor looks the part, from the front at least. The bezels and stand are gold-color anodized metal (it's actually magnetized, so paperclips will cling to it); only the glossy white plastic back makes it clear this isn't actually an Apple product, and bely the RRP.
Acer says it specifically kept the H277HU's bezels as slim as possible for those who want to put two or more in a row, though it's worth noting that there's no support for daisy-chaining USB-C displays off a single laptop port.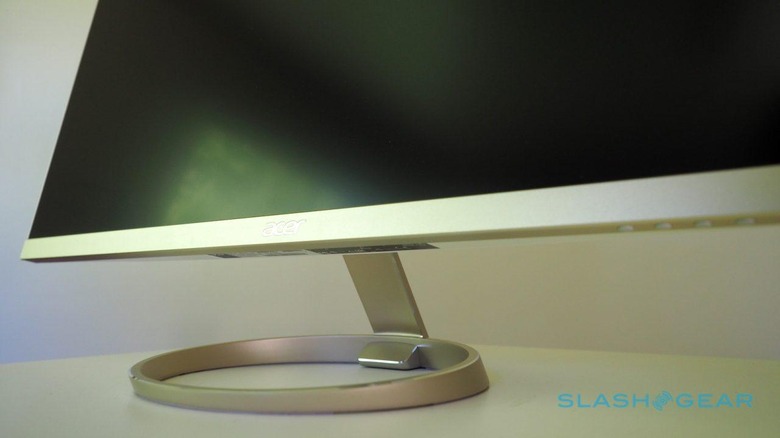 Actually finding a decent USB-C hub has proved tricky. Apple still refuses to produce its own for the MacBook, and it's getting almost comical how long overdue the Thunderbolt Display is for a refresh. Perhaps, when that finally happens, Apple will add USB-C and a variety of break-out ports, but for now it's third-party solutions or a fistful of messy dongles.
To be fair, this isn't much beyond a small USB hub. Acer gives you two USB 3.1 ports – no ethernet, no video output, no headphone jack – which are connected when you plug in the supplied USB-C 3.1 cable to the port on your laptop.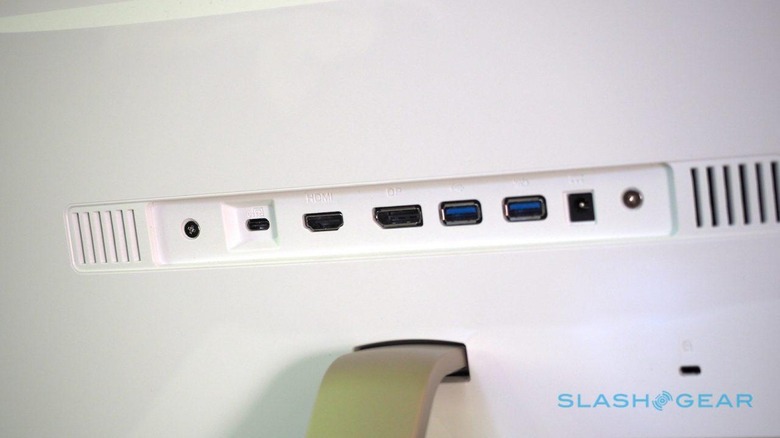 That single cable handles data, video, and power, and of course the benefit of the standard is that you could hook up any number of peripherals – including a USB hub with more ports – and have them all show up on your computer. For daily use I found a keyboard and memory card reader were my most common uses, but I also had no issues with a USB ethernet adapter and a scanner.
Plugging in an HTC 10 smartphone, meanwhile, mirrored the handset's display on the Acer, as well as recharging it. A USB drive plugged into one of the H277HU's ports, however, wasn't recognized by the phone.
What I didn't realize the first time I closed my MacBook for the day and shut off the Acer was that, by default, the H277HU doesn't supply power when it's not on. That meant my laptop wasn't charging; no great issue that day since I'd been plugged in for a few hours, but more of a problem if you're in the habit of getting home and plugging in your notebook on the desk to recharge overnight. There's an option in the monitor's settings to turn it on.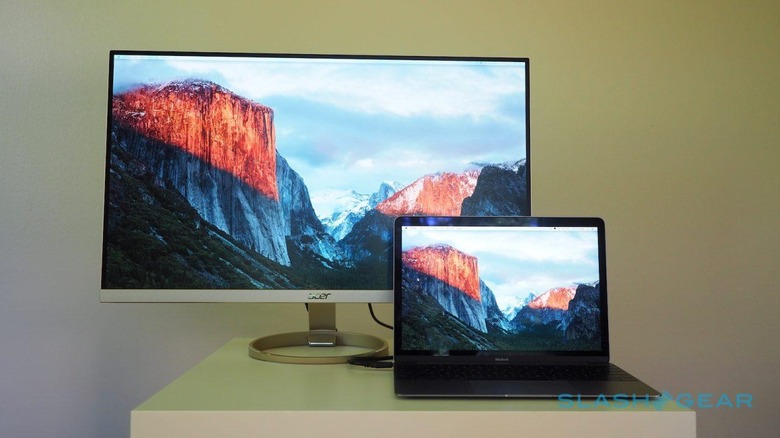 Ergonomically, Acer puts all its ports on the rear of the monitor, meaning those who regularly connect and disconnect devices may well get frustrated peering behind to make sure they're jabbing their USB in the right place. A side-mounted USB would've been preferable.
What's proved more annoying has been the absence of height adjustment. The Acer's stand slots into place on the rear of the display: that made it easy to assemble – there's a small screw to attach the circular base, but it can be fitted without tools – but I would've appreciated being able to raise it up on my desktop. You do get tilt adjustment, from -5 degrees to 15 degrees, though there's no VESA mount support.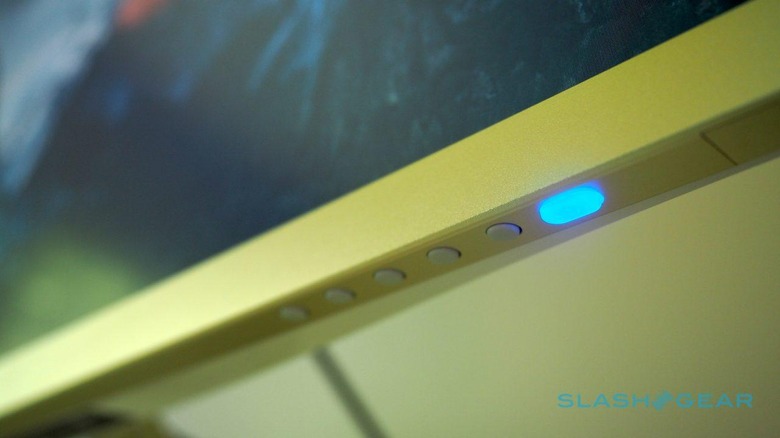 Control is via a row of buttons along the bottom right edge of the monitor: tap one, and the on-screen dialog pops up to adjust brightness and color settings, switch sources, and change the volume. You're not going to mistake the UI for that of a recent smart TV – it's very basic, even if Acer actually offers an impressive range of adjustments including 6-axis Hue and Saturate tweaking – but it does the job.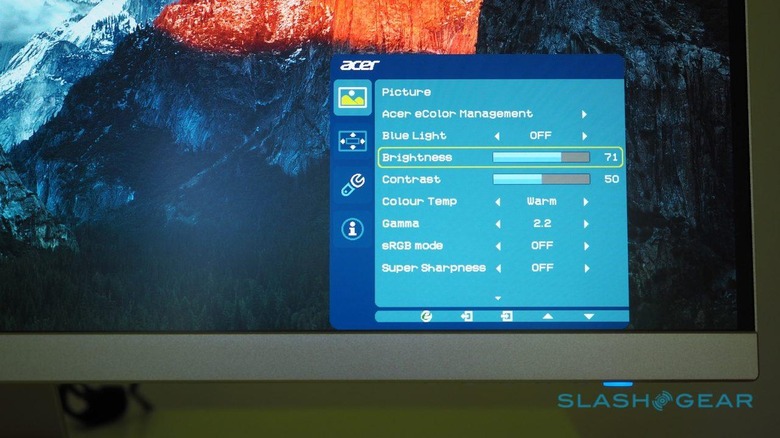 As for picture quality itself, the IPS panel is crisp and bright. The colors and detail don't hold up to some of the more expensive prosumer monitors out there, and when you look between the MacBook's own Retina display and the Acer you can see there's more granularity on the latter, but it's definitely more than enough for video editing and such.
You pay a premium for USB-C support, it's abundantly clear. Acer equips the H277HU with HDMI 2.0 and DisplayPort inputs as well, but you can find a 27-inch WQHD monitor without USB-C for a couple hundred dollars less if the new connection isn't important to you.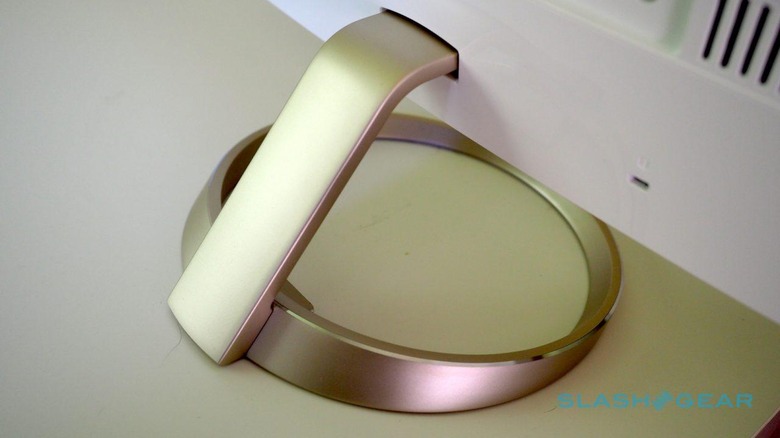 To some – myself included – though, the promise of a single connection to get my desktop hooked up is very alluring. Acer's system isn't quite ergonomically perfect, and I'd welcome a few extra ports to truly make this a desktop hub in its own right, but the H277HU is competing in an underpopulated segment and that makes it easier to overlook the few annoyances.