ASUS Zenfone AR: 5 reasons you want this phone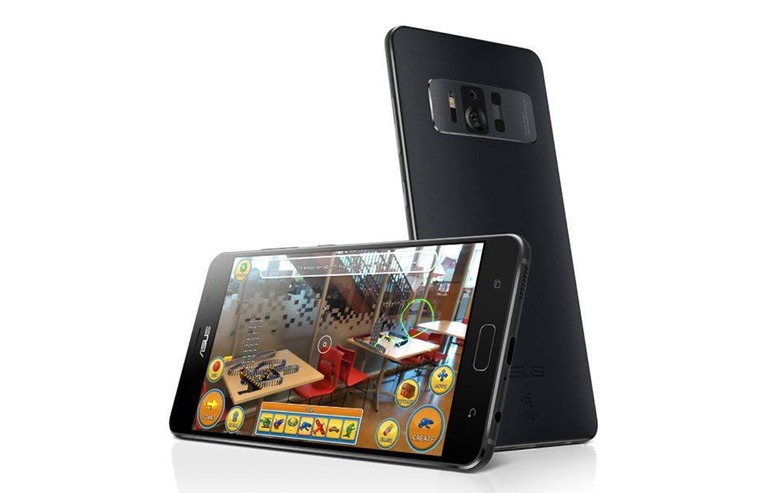 The ASUS Zenfone AR is officially available to buy from Verizon, and you may be considering picking one up yourself. If you're still on the fence, take note: there's a lot to like about this phone, which was first launched back during CES 2017 (hands-on here). As its name suggests, this phone brings with it augmented reality capabilities, but what, exactly, does the phone offer to make it so appealing? Here are five key things.
Tango
The Zenfone AR's most notable selling point is its inclusion of Tango, an augmented reality technology from Google that brings virtual elements onto the real world. While the Zenfone AR brings the physical hardware necessary to make Tango possible, such as the TriCam listed below, Tango utilizes it to perform things like depth perception and object motion tracking.
Tango perceives the real world as a 3D space, making it possible to insert VR elements into this world. One example is an app that allows users to place virtual pieces of furniture into their real-life living room, enabling them to see what it looks like before they purchase. That's only a taste of what is possible with Tango, however; Zenfone AR comes with several apps that leverage these capabilities, including apps from Wayfair and Lowes, iStaging, Measure, and Matterport Scenes. Watch the video above to see this in action.
Daydream
The Zenfone AR is notable as the only smartphone currently on the market that supports both Tango and Google Daydream, bringing the best of both worlds to a single handset. With this phone, Daydream View owners are able to use the phone with the VR headset to enjoy virtual reality experiences.
TriCam System
A vital part of the complete Zenfone AR package is the handset's TriCam system, a trio of rear cameras that include a 23MP sensor, another camera sensor for motion tracking, and yet another for depth sensing. With this camera system, and coupled with the phone's other technology, the Zenfone AR is able to perceive the world around it as a 3D model.
In a way, this enables the latest Zenfone to see the world in much the same way you, its potential owner, sees the world. The images you see on the phone's display come from the high-resolution 23-megapixel sensor, while the other two make it possible for Tango to bring various augmented reality experiences to the phone.
This is a quite sophisticated camera system, more so than it appears to the naked eye. It includes, as one example, an infrared projector that works in conjunction with the depth sensing camera to measure how far away various objects are from the camera.
Excellent specs
Looking at the Zenfone AR's specs, we see a high-end handset with a roster of notable features, not the least of which is its 5.7-inch 2560 x 1440 WQHD Super AMOLED display and 64-bit Snapdragon 821. ASUS packed a ton of features into this phone, including small details like the ability to use the touch display while wearing gloves.
The handset includes Tru2life tech for viewing the display outdoors, Gorilla Glass 4 with super-anti-scratch, up to 128GB of internal storage plus a microSD card slot, the inclusion of DTS Headphone:X for 7.1 virtual surround sound when wearing headphones, and fast charging. That itself is only touching on the full span of Zenfone AR features; you can view the entire specs sheet here for all of the finer details.
SonicMaster 3.0 and DTS Headphone:X
Virtual reality isn't just a visual experience; audio is an important part of being fully immersed in VR, and that's where ASUS's SonicMaster 3.0 and DTS Headphone:X technology come into play. The Zenfone AR sports a mono speaker with five magnets, and it is driven via an NXP Smart AMP. This enables high volumes; the phone is also capable of playing 192kHz 24-bit high-res audio, as well.
More important for VR experiences, though, is the DTS Headphone:X technology that simulates 7.1-channel surround sound when the user is wearing headphones or earbuds. This provides a more realistic, immersive audio experience while wearing the Daydream View headset, and is an important component in getting lost in a VR or AR world.
Wrap-up
The ZenFone AR brings a lot to the table, and some of it isn't available via any other phone. Most notably, this handset offers both Tango and Daydream support, a combination unique to the Zenfone AR (for now, at least). The phone itself is a high-end offering with a wide range of quality hardware. Despite all of this, the handset's $699 USD price tag puts it in the range of other top-tier flagships. The handset is available now through Amazon.