ASUS Zenbook UX21 Hands-On [Update: UX31 Too]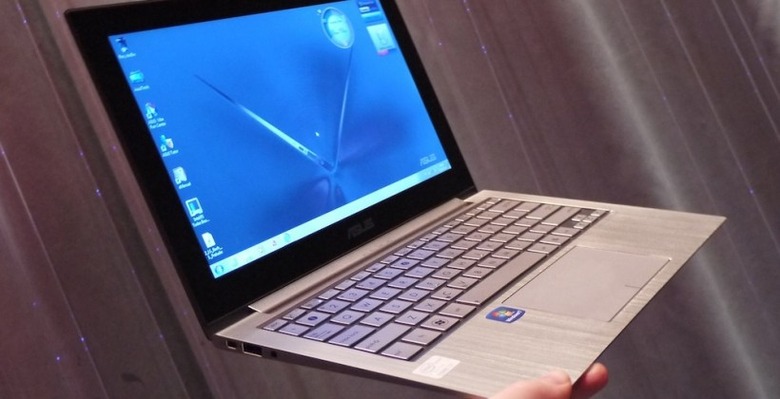 ASUS has boarded the ultrabook bandwagon, and it's picked an impressive machine to show its hand. The ASUS Zenbook UX21 may not be branded an ultrabook, but it's just as much one of the new Intel breed of ultrabooks – and a MacBook Air rival – as Acer's, Toshiba's, Lenovo's and the rest. We've grabbed some hands-on time at ASUS' London launch event; check out our first-impressions after the cut.
It's particularly hard to escape the MacBook Air comparisons with the UX21; let's be generous and call it half-homage, half-necessity based on fitting an acceptable amount of connectivity into a slimline form-factor. Just 3mm at the front (flaring to 17mm at the back) and 1.1kg in weight, it's not quite as thin as the 1.08kg 11.8-inch Air, and it has an 11.4-inch display running at 1366 x 768 so is slightly smaller. ASUS also has a Zenbook UX31 with a larger, 13.3-inch display running at 1600 x 900.
The aluminum construction is solid and the hinge – always a worry with these slimline machines – is solid. Audio quality is surprisingly high, too, thanks to ASUS' pairing with Bang & Olufsen: the ICEpower stereo is impressively strong, with some decent bass for an ultraportable.
ASUS Zenbook UX21 hands-on:
[vms dc3308584dce7afa3661]
There's no shortage of power, either. ASUS has slotted a choice of Core i5 or i7 processors inside the Zenbooks, and the i5-2467M in the unit we played with was certainly fast enough to handle browsing and multimedia duties. A microHDMI port makes hooking up an external display straightforward, and ASUS slips ahead of ultrabook rivals with its USB 3.0 connectivity (along with a USB 2.0, mini VGA and a combo audio in/out port).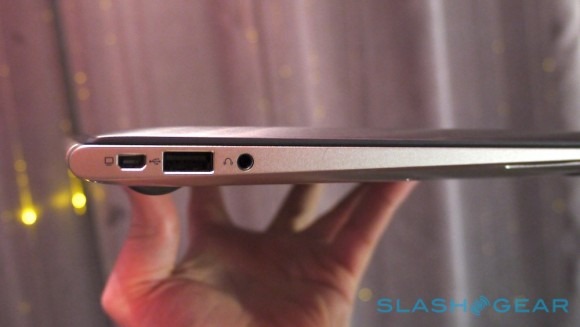 Battery power is the ultrabook promise, and ASUS reckon 5hrs of active use for the UX21 (7hrs for the larger UX31). The company is particularly proud of its standby time, too, a full two weeks with a resume back to the Windows 7 desktop in just 2s. That's shorter standby than the Acer Aspire S3, certainly, but a far faster resume time than the S3's deep-sleep resume of 20 seconds. When the battery dives to 5-percent the Zenbook automatically saves your currently open data to the 128GB SSD. Both sizes have 4GB of RAM, and there's WiFI b/g/n and Bluetooth 4.0.
The ASUS Zenbook UX21 is priced from £849 in the UK, while the Zenbook UX31 is from £999. Both will go on sale from next month. Core i7 processors will be offered as upgrades, along with more memory.
Update: Some live shots of the ASUS Zenbook UX31 added to the gallery below.