Acer Aspire S3 Ultrabook Lands For $899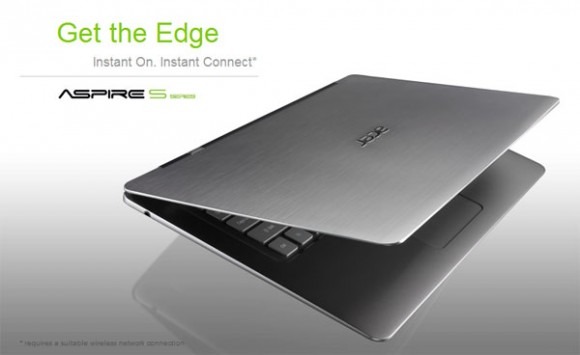 Acer has gone official with the pricing on the new Aspire S3 Ultrabook computer. We had heard from the start that the Ultrabooks would be available for under $1,000 even though it didn't look like that price would be possible for a while. Acer has now announced that the S3 Ultrabook will sell for $899. For that price, the machine will run an Intel Core i5 processor, use a SSD, and have USB and HDMI ports.
The notebook claims to be so power miserly that it can last for 50 days on standby or 6 hours with continuous use. It can return from sleep mode in 20 seconds and the little SSD inside for OS has only 20GB of storage. After no use for eight hours, the S3 goes into deep sleep mode and can resume from that mode in 20 seconds.
The notebook measures 12.59" x 8.52" x 0.51" to 0.68" and weighs in at 2.98 pounds. The screen is a 13.3-inch LED backlit HD unit. It also has a memory card reader and a headphone connector. Graphics are handled by Intel HD 3000 and the storage drive is a 320GB HDD. The native screen resolution is 1366 x 768. Future models of the S3 will offer the Core i7 or Core i3 processors.