ASUS Windows Phone 7 smartphone leaks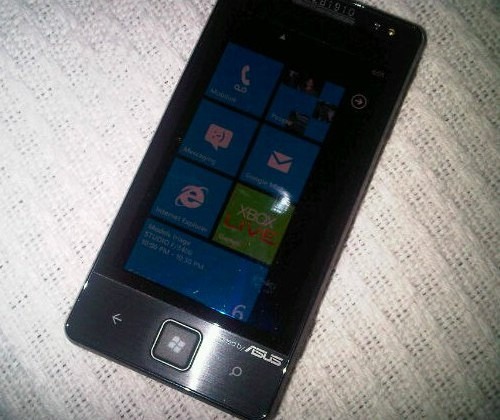 What appears to be ASUS' Windows Phone 7 smartphone has shown up in the wild, caught in Pakistan by Twitter user Shaistajafri.  No details on the handset have been given, but like other WP7 prototypes we've seen it has the mandated three hardware buttons on the front panel and a large touchscreen.
ASUS is among the five manufacturers expected to release Windows Phone 7 once the new smartphone platform makes its official debut later in the year.  It's unclear whether this is a prototype of the production model they intend to launch, or a development device; the serial number across the top of the screen suggests it's some sort of internal hardware unit.
We imagine ASUS will be using that serial number to track down whoever let the WP7 cat out of the bag and give them a strongly-worded telling-off.  According to Shaistajafri the phone is her brother's, not hers.
[via the::unwired]