ASUS VivoPC and VivoMouse make a high-design play for your living room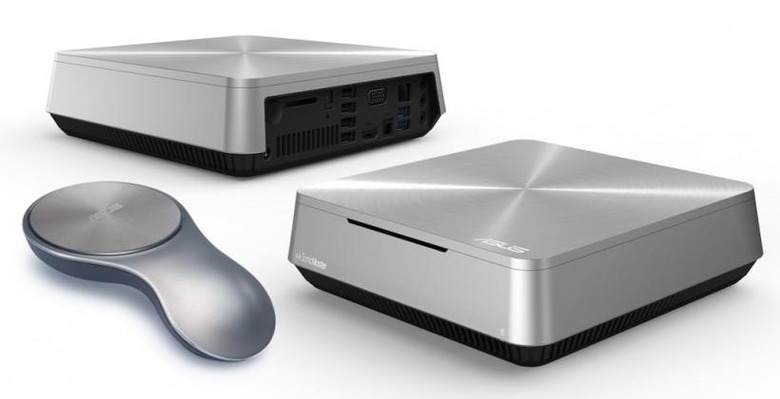 Lest you think ASUS' Computex 2013 range is all tablets and glossy ultrabooks, never fear: the company also has some new desktop PCs, kicking off with the Mac mini-rivaling VivoPC and its matching hybrid VivoMouse controller. Angling for a spot under your TV, the ASUS VivoPC is a compact Windows-powered media center, while the VivoMouse tries to take on the duties of a mouse, a touchpad, and a remote control all in one.
ASUS hasn't fully detailed the VivoPC's specifications yet, though an Intel processor inside seems more than likely. It's also been designed with upgrade potential in mind, not something you could normally say about a SFF computer of this scale: lift off the lid, and you can pull out the hard-drive and RAM for replacement. There's a standard SATA 6GB/s connector inside.
Connectivity, meanwhile, includes WiFi a/b/g/n/ac, an SD card reader, two USB 3.0 ports, four USB 2.0 ports, and HDMI. There's also an optical digital audio output, a legacy VGA port, wired ethernet, and audio in/out. ASUS is pretty keen on its use of SonicMaster audio, too, and is positioning the VivoPC as an ideal hub for squirting music and video wirelessly around the home.
The whole thing stands 56mm tall, and ASUS says it takes up less of a footprint than an A4 sheet of paper (that's under 8.3 x 11.7 inches).
ASUS VivoPC:
You'll need something to control all that from your couch, of course, and that's where the ASUS VivoMouse waddles in. The round-faced peripheral slaps a touchpad on top of a standard mouse, which means you can fondle and stroke it around the screen as well as use Windows 8 gestures.
There's also remote control functionality, for playing/pausing and skipping through content you're watching on the media center. It's wireless, of course, though like the VivoPC there's no word on how much it will cost when it reaches store shelves in Q3 2013.
ASUS VivoMouse: