ASUS VivoBook U38N Review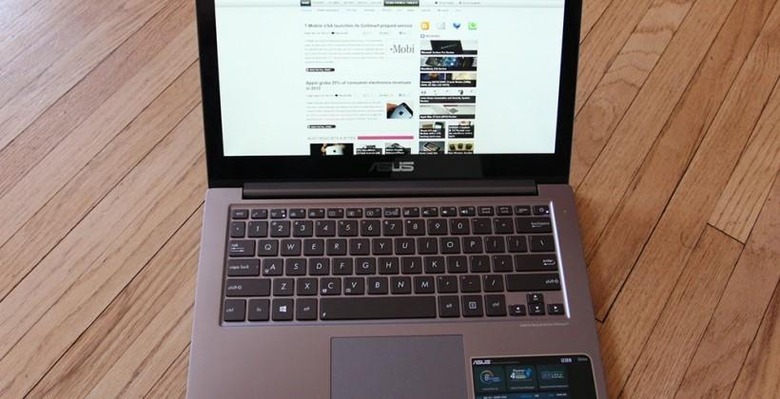 This week we're having a look at the real-deal final release iteration of the ASUS VivoBook U38N with full touchscreen capabilities, Windows 8, and AMD innards. This machine is sleek, keeps with the fantastic ASUS style language we've been loving since the ASUS Transformer Prime stole our hears back in 2011, and provides a rather rare look at this sort of amalgamation of bits with AMD under the hood. It all starts with 5-point capacitive touch on a Full HD 1920 x 1080 panel with a rather nice "frameless" design up front.
Hardware
With an ASUS piece of hardware you know you're getting a machine whose creators spent some time perfecting its casings, and here we've got a design that's been perfected several times over. This notebook will not look unique to you if you've worked with an ASUS laptop in the last few years. It's certainly thin at between 6-19mm from its thinnest to its fattest, and it's light enough to fit in your standard backpack at just 1.55Kg.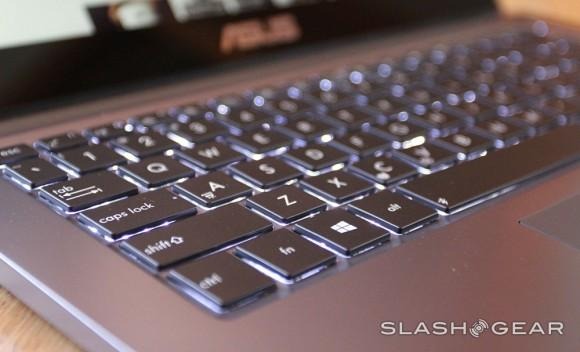 The panel you're looking at is 13.3-inches of Full HD IPS LCD at a 16:9 aspect ratio. The front-facing camera you're working with is HD 720p for video chat and you've got a standard integrated microphone so you can chat without additional accessories. If you do want to plug in, on the other hand, you've got 3x USB 3.0 ports, a Mini VGA port, full-sized HDMI-out, and an SD card reader so you can rock and roll.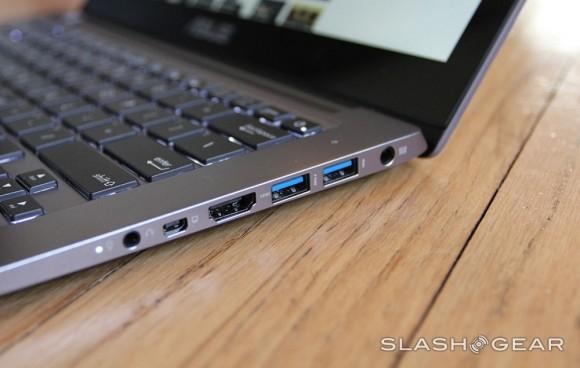 The keyboard here is a really standard ASUS setup – working with a bit more breathing room than we've seen on the slightly smaller Transformer tablet units over the past couple of years with a touchpad that's also had some usability improvements. Of course if you continue to compare an Android tablet user experience to a Windows user experience here with full Windows 8, you're going to feel that this device is rocking and rolling in the hardware department – it does have a bit to do with the fact that Windows 8 is made for a desktop environment, of course.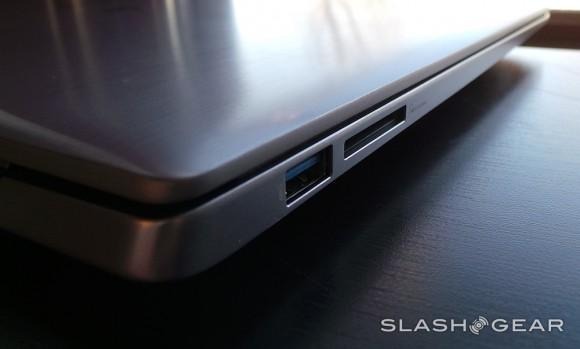 Inside you've got a choice between 2.5῀ 7mm 500 GB HDD and 2.5῀ 7mm SSD 128GB as well as DDR3 1600MHz 2GB (on board) with either 2GB or 4GB Slot DIMM. It all depends on what you need to keep you kicking. You've also got a choice between AMD Radeon HD7600G and AMD Radeon HD7620G graphics on either AMD A8-4555M or A10-4655M Quad-Core APU processors. All this magic comes clean with the AMD A70M Hub Controller – your only choice for chipset.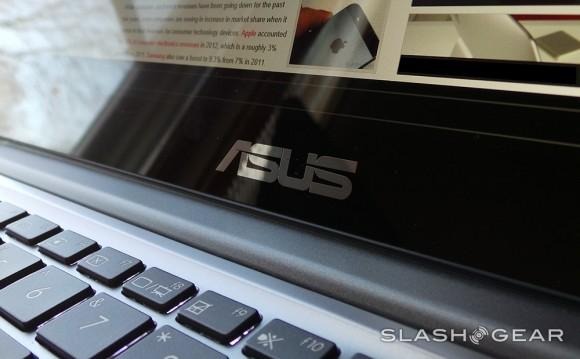 You'll also find that you've got a built-in Bang & Olufsen ICE Power audio system that'll make dorm room video watching a successful venture without a doubt. Each speaker is 2.5 W and you've got the guarantee that Bang & Olufsen worked with the ASUSA special Golden Ear team for an "exclusive" SonicMaster Technology experience. In short: this laptop sounds very, very nice.
Software & Performance
With Windows 8 you've got a fully touch-friendly experience ahead of you from start to finish, and with the 5-finger touch functionality of the ASUS U38N series, you'll be tapping all day long. To keep you running strong, you've got AMD to keep you warmed up nice and toasty, complete with several AMD-exclusive features. Have a peek here first at a system readout for this unit:
[sgbenchmark id=201 show=system]
With this build of Windows 8 you'll be seeing a fairly clean design with not one whole heck of a lot of extra software pushed by ASUS. That said, there are some interesting additions you're going to want to see in our hands-on with the system coming up next. Note while you're watching how sleek the system is and how well touch is responded to right here with this basic out-of-box build.
Finally have a peek at our basic benchmark result from Geekbench. This notebook is certainly not the most powerful we've come across, but it definitely gets the job done for your everyday computing needs. If you're looking for some notebooks to compare to, feel free to head down into our Laptop Reviews tag portal for machines from each of the finest manufacturers on the market. AMD does seem to be holding its own against some of the more visible names in the public today!
[sgbenchmark id=201 show=score]
Wrap-Up
With the ASUS VivoBook U38N you've got a rather well-rounded solution for your school or everyday home use. With the high-quality audio system and the Full HD picture right in front of your face, you'll also do well to work with this machine as a home entertainment blaster, especially if you're the sort of person who doesn't use a giant TV. If you DO use a giant TV, you've also got the option to output via HDMI as well – easy as pie!
This is easily one of ASUS' finest efforts to date, and with AMD under the hood you know you'll have a unique solution that your best buddy will be interested in fiddling around with. ASUS also works with a collection of their own accessories that work with this notebook, and the manufacturer continues to support their ever-growing line of products with both hardware and software upgrades into the future. Let us know if you're onboard!