ASUS Transformer Prime with Android 4.0 ICS review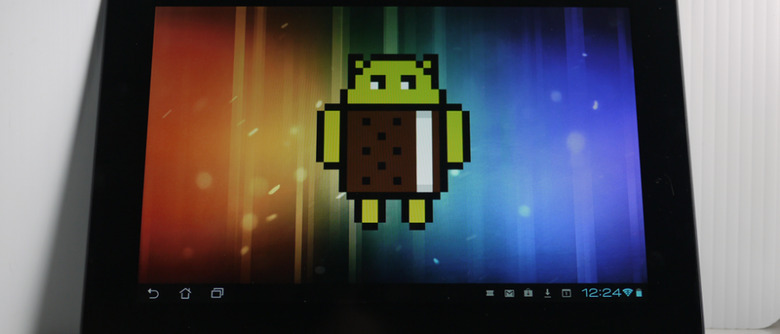 The first tablet on earth to be licensed by Google to officially be running Android 4.0 Ice Cream Sandwich is the ASUS Transformer Prime, and we've got it running slick here in a full review for you. This tablet has been out for some weeks now, but has just been updated officially to Android 4.0 Ice Cream Sandwich this month. As we found at CES 2012, this tablet/transformer device has indeed worked with Google to make this happen, and you'll see the speed and excellence therein because of it. Also before you begin be sure to check out our full Transformer Prime review to see the rest of the capabilities of this machine.
The build you're seeing here is what you'll get when you update your ASUS Transformer Prime to ICS, and the first thing you'll see is that it's not Vanilla. The way ASUS has worked with Android 4.0 is in a way that makes it NEARLY Vanilla, that is completely unmodified by the manufacturer, but they've done some cool changes themselves. They've not only done a good job in not taking too much out or adding too much back in in this build, and you'll see right away that the system is slick as ever.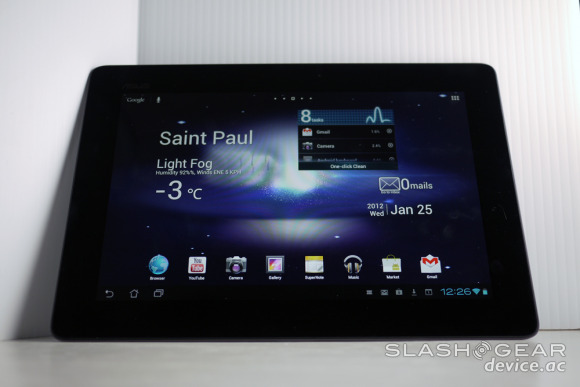 The icons for the basic built-in applications have been changed to Ice Cream Sandwich loveliness, and interfaces have been changed to several basic Google-built apps. None of the apps are all that different from what you've seen in our original Ice Cream Sandwich review save their size except for the camera app which has been modified to work with the tablet's bigger form factor. Like Honeycomb you'll see that both the lock when you wake the tablet up and the controls on the camera app are sitting on the far right, complete with circular controls for things like zooming in and out.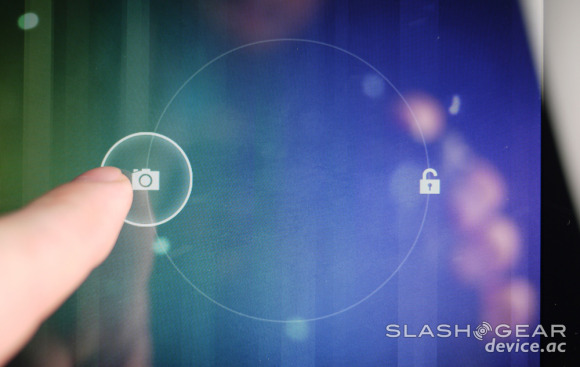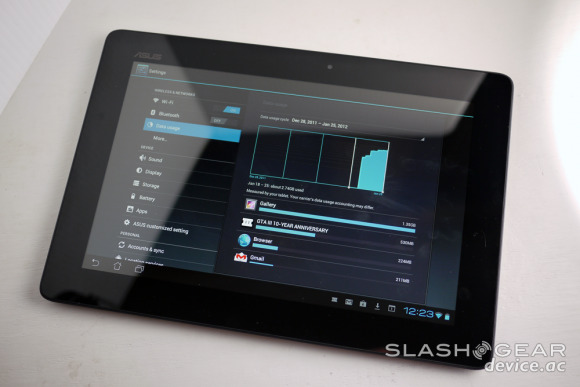 You wont find the same shutter speed you saw on the first ICS device out there, the Galaxy Nexus, simply because that's a feature built into the device, not the software. Similarly you will not find the facial recognition screen unlock – we're guessing this is because there've been so many problems surrounding the lock thus far that ASUS decided to hold off on it for now for their device here. The settings menu is updated to the full ICS experience, complete with "developer" controls – head to the Force GPU Rendering option for a lovely GPU treat.
Have a peek at the images above and below as well as the hands-on video to get a full look at this build, then feel free to ask any additional questions you've got about the system in the comments below. Additionally if there are any tests you'd like done on this tablet with this version of Android on it, ask and you shall receive!