ASUS Transformer Prime vs iPad 2, benchmark tests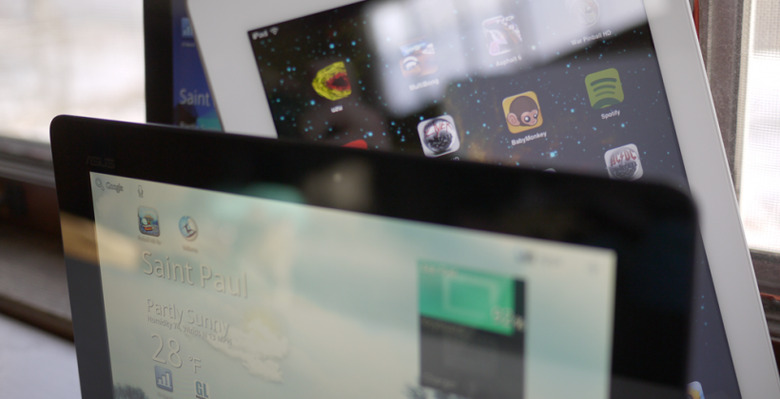 There's so very much to say about a couple of devices when you're comparing them, especially two titans like the iPad 2 and the Asus Transformer Prime, but what we're going to do here is get down to some basics – namely some benchmark tests that work just as well on both iOS and Android – so that we can have a clear view of how the two work in relation to one another. We've got a few tests lined up here, first of all SunSpider, an internet browser-based JavaScript benchmark which tests how well your internet is going to work based on the machine more than your connection. Next there's Rightware's BrowserMark, another test that sits in the internet browser. Finally there's GLBenchmark 2.1 which is one of the only apps that works on both iOS and Android outside of the browser, and frames per second across the screen is what it works with.
First let's have a look at the browser benchmarks. While we've used SunSpider in the past and you'll be able to find previous marks of ours on other devices by heading to our SunSpider search portal, BrowserMark is one we're just starting to work with recently. That said, lower is better in SunSpider, while higher is better in BrowserMark.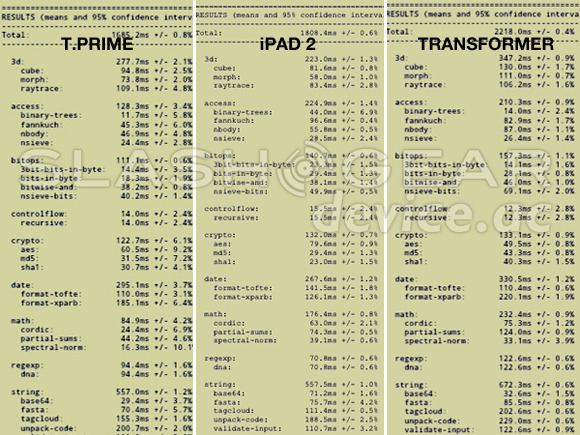 Lower is better
You'll also notice here that we're also testing the original ASUS Eee Pad Transformer. While both that device and this newer Prime model both have the "Eee Pad" name in them, the Transformer Prime is being promoted without the extra syllables. You'll also notice that these three devices line up pretty nicely from oldest to newest in each of the tests here – this is a bit different when it comes to testing the GPU cores in the final test.

Higher is better
What we have here last is GLBenchmark 2.1 which above all else tests the GPU cores in the processors on each of these devices. The Apple iPad 2 uses Apple's own A5 dual-core chip while the Transformer has NVIDIA's original Tegra 2 dual-core processor and the Prime uses the newest NVIDIA quad-core processor Tegra 3. Note here that not only has NVIDIA upgraded their chip to hold 2 (actually 3) more CPU cores, their GPU cores have been clocked higher as well.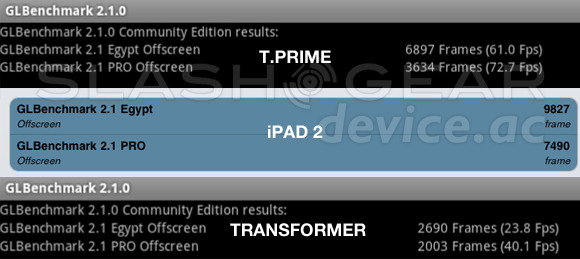 Higher is better
What you'll find here is that the two tests we've got running here, the Prime outdoes the original Transformer by quite a bit, but the iPad 2 still leaves both of the Android tablets in the dust. Remember also that these tests, while they're an OK indicator of performance, are by no means perfect, especially when they're conducted on completely different machines. We'll be continuing our hands-on series here on SlashGear into and through our full review of the Transformer Prime, stick around for the full show!
BONUS here's #2 in a series of hands-on videos we've got going for the Transformer Prime. Look at those lovely features!