ASUS Transformer Prime TransSleeve gets video demo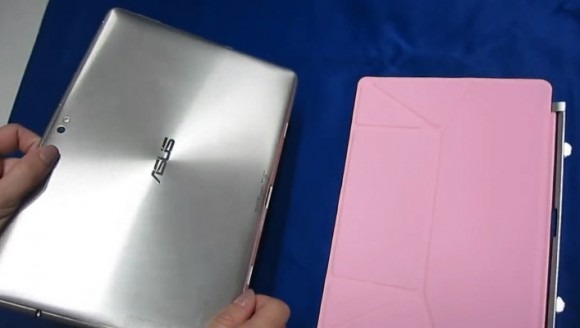 ASUS has begun teasing some of the official accessories for its Eee Pad Transformer Prime, with one of the most interesting, the folding Transformer Prime Sleeve, getting a new video demo. Intended to both protect the touchscreen of the Tegra 3 slate, as well as allow it to be propped up for easier multimedia consumption or typing, ASUS' system differs from Apple's Smart Cover design with some more complex folds.
Whereas the iPad 2 Smart Cover simply rolls up, ASUS' cover flexes into a more complicated 3D shape to prop the Transformer Prime in place.  Two locking tabs slot into the same securing holes as the battery-toting keyboard dock section does, meaning you can't use both accessories simultaneously, but then given the keyboard also protects and props up the screen that's not likely to be a limitation.
As for the new Eee Pad itself, that will go on sale in the US come December 19. You can find out all the details in our comprehensive Transformer Prime review.
[Thanks dy4me!]