ASUS Transformer Prime sets massive benchmark pre-release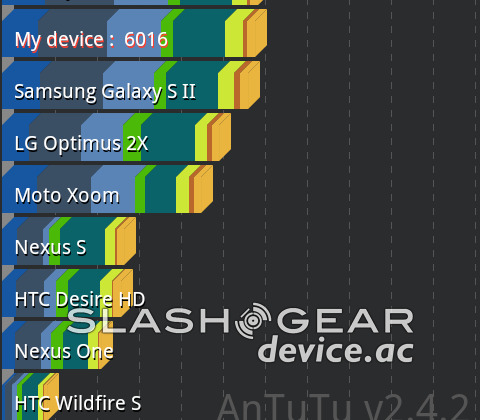 Over the past few weeks we've been seeing glimpses of the next big tablet release from ASUS, one that's all but guaranteed to carry the NVIDIA Kal-El quad-core processor, and today according to AnTuTu benchmarking system, we see that not only does this pair exist, it's a powerhouse! What you're seeing here in this post is a stack of benchmarks that've been recorded by AnTuTu (an app which tests synthetically several innards of an Android device including CPU, graphics, and more) and right up on top you'll see nothing less than the ASUS Transformer Prime, complete with a quad-core processor running at 1.4GHz! Below that you'll see another couple of hero devices from Samsung, (including the Galaxy S II from AT&T) but take note: they've only got two cores, half the power!
It was the folks over at Tech2 that saw this first, they having tested their original ASUS Eee Pad Transformer out on the system, it showing up a bit lower on the list (see image below), with the same top runners winning the race. What you should take note of here is that the Transformer Prime has not only taken the leader spot, it's broken the barrier set by AnTuTu at 10,000 points! That's gigantic, that's huge, it's massive!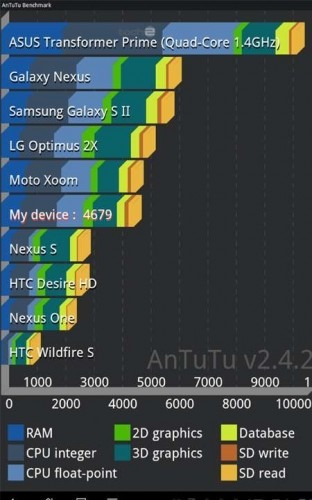 Of course as always you should note that comparing one device to another on a synthetic benchmarking system such as this can only be taken for so much, as each configuration is set up for different purposes and it's not often that a setup is made JUST to beat out the rest in a benchmark test. A good example of a device that IS made to win is our pal Simms' Nexus S device which you can see obliterating the competition over on Android Community with only a single core. That said, we've got to assume that this Kal-El aka Tegra 3 (if that's what it ends up being called) device has not been tweaked to beat the system and is instead JUST that powerful.
Can't wait to see what else the device will bring!