ASUS Transformer AiO is a world's first: Windows 8/Android hybrid madness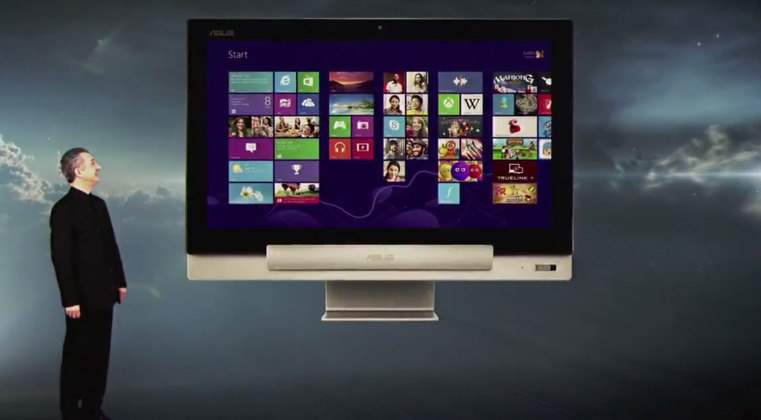 At Mobile World Congress last month we had a magical experience with ASUS that noone will ever forget – but one device we saw seems to have been looked over until now: the ASUS Transformer AiO. This device was shown, but not exactly detailed – this week we're learning why. Apparently this machine – bear with me now – is both a Windows 8 desktop and an Android tablet – both running separate processors.
What you've got here is an All-in-One desktop machine, first and foremost, running Intel Core architecture inside with a full Windows 8 experience up front. The full touch-friendly interface you've got up front is working through a 18.4-inch display that's also detachable and usable as a tablet. When you detach the display, you're no longer using the Intel Core i5 or Windows 8 – instead you're working with the NVIDIA Tegra 3 quad-core processor inside the detached unit itself, and you're working with Android 4.1 Jelly Bean.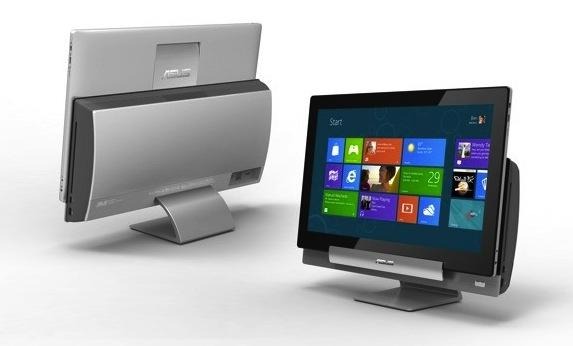 NOTE: this isn't the first time we've seen this concept. We had a hands-on experience with an early iteration of the ASUS Transformer AiO last year, too.
The kicker is that with this setup you'll also be able to work with Windows 8 on the detached tablet in Remote Desktop mode. Of course that's not quite the quick, perfect, and awesome experience you'll be getting when you have the display/tablet attached to the desktop, but it's still quite the exercise in flexibility! When you're working with Remote Desktop mode, mind you, you're working over a wi-fi connection in your own home – or office – or wherever you've got this lovely beast.
The desktop works with NVIDIA GeForce GT 730M graphics as well, so you're also working with a double-dose of NVIDIA magic, both the mobile side of things with the Tegra, and the desktop graphics side of things with GeForce. You'll also be working with four USB 3.0 ports and HDMI-out for additional monitor action. In fact, as the fun never stops, you can have the desktop working with HDMI-out to a monitor with Windows 8 while the tablet works with Android completely separately – fabulous weirdness!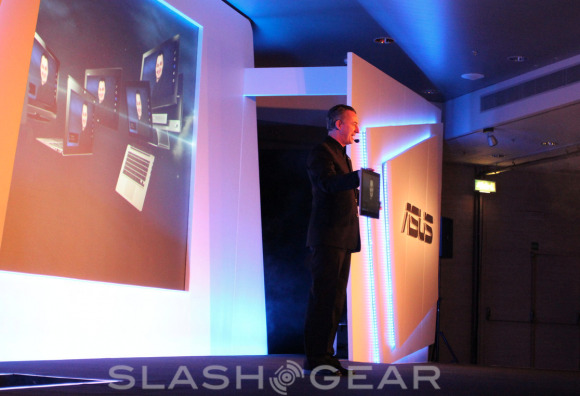 Above: This magician (really, he did magic on stage) is holding the tablet portion of this wild amalgamation.
The removable bit is an 18.4-inch LED-backlit IPS LCD display with 1080p HD resolution that's got 10-point multitouch and some super 178-degree wide viewing angles all around. This display also has a "convenient carrying handle" as well as a folding stand that you'll be able to set it up with when you realize how massive it is – not quite a laptop situation, this one.
You'll be seeing this machine blasting forth early inside the second quarter of 2013 in North America with pricing starting at $1299 USD. Sound like a deal to you? Let us know if you've got any questions about this beast and get pumped up for our full review – coming on quick! Also have a peek in the timeline below to see other recent announcements and hands-on experiences from ASUS, too!