ASUS ROG Phone 2 pictured, thicker and taller than any other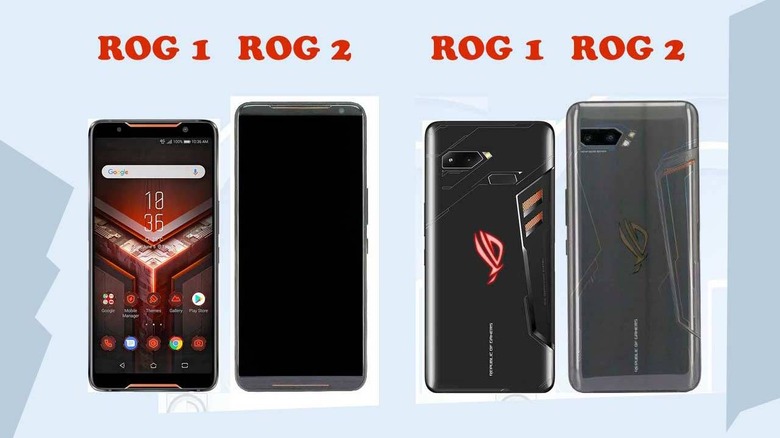 The ASUS ROG Phone 2 was revealed courtesy of TENAA today, baring not just its front and back side, but its specifications, too. This phone is the second in a line of "gaming phone" devices from ASUS, a company that uses the brand "ROG" (Republic of Gamers) for their gaming-specific hardware. This second version is less akin to a follow-up to the first, and more like a "pro" or "plus" version of the original – it's a significant improvement in most hardware-based ways.
The new ROG Phone 2 has (leaked) dimensions of 170.99 x 77.6 x 9.78 mm while the original came in at 158.8 x 76.2 x 8.3 mm. We've done some re-sizing of the TENAA and press images of these units to show the new unit's relative size. Based on the assumption that the logo text is the same size, this should be pretty much on-target.
SEE: Some real life photos of the ROG Phone 2, too!
This device has a 5800mAh battery inside. That's one beastly battery, and it explains the extra thickness vs the original. The display on this far more massive device is 6.59-inches. That's significantly larger than the display on the Galaxy Note 9, which has a 6.4-inch display. The first ROG Phone display was just 6-inches large.
This device will continue to roll with the accessories made for the original. With the width of the device nearly identical to its predecessor, the various clips and ports used in ROG Phone 1 will work with ROG Phone 2 without issue. So no limits for the first wave!
The ASUS ROG Phone 2 will be revealed on the 23rd of July, 2019. That's next week, if you're reading this article the day it was published. This device will be first to sport a Qualcomm Snapdragon 855+ (plus) in the wild – assuming ASUS gets it out the gate on time!