ASUS ROG Crosshair V Formula, SABERTOOTH 990FX and M5A99/97 motherboards outed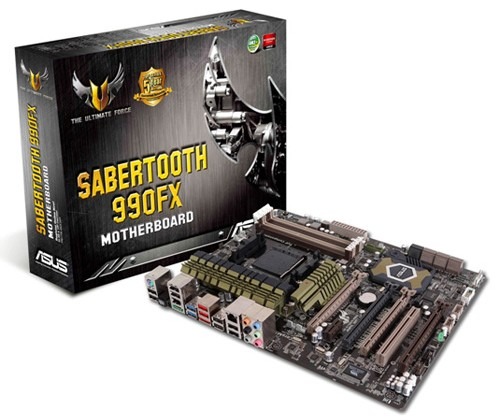 ASUS has brought motherboards to Computex as well as tablets and notebooks, with several new AMD 9 Series models offering things like AMD CrossFireX, NVIDIA SLI and Intel ThunderBolt connectivity depending on 'board. The ASUS M5A99/97 Series, the TUF SABERTOOTH 990FX and the ROG Crosshair V Formula all support 990FX/990X/970 chipsets and AM3+ CPUs, with the Republic of Gamers 'board having a ThunderBolt audio/LAN combo expansion card.
It also offers both NVIDIA and AMD's multi-card graphics support, onboard SupremeFX X-Fi 2 audio, Bigfoot Networks Killer E2100 networking with game traffic prioritizing and the option of 4-way NVIDIA SLI with a ROG XPANDER add-on board. There's the usual overclocking support too, along with USB 3.0 connectivity and more.
The ASUS M5A99/97 Series, meanwhile, uses DIGI+ VRM to allow owners to tinker individual power settings, including DRAM power control, with the ASUS UEFI BIOS for GUI based overclocking. Finally, the ASUS SABERTOOTH 990FX uses CeraM!X, a nifty cooling material that not only looks good but helps reduce heat more efficiently, just like on the SABERTOOTH P67.
That's paired with ten heat sensors embedded in the 'board itself – ASUS calls it "Thermal Radar" – which can be used for fan speed fine-tuning. No word on pricing or availability at this stage.
Press Release:
ASUS Launches New AMD 9 Series Motherboards offering Superior Performance, Reliability and Features

– New AM3+ based motherboards offer a class leading DIGI+ VRM digital power design and innovative UEFI BIOS that is a first for the AMD platform –

Fremont, California (May 30th, 2011) ― Continuing its leadership in innovation, design and performance, ASUS the number #1 and most awarded motherboard brand is excited to announce a new lineup of innovative AMD based motherboards that support the 990FX/990X/970 chipsets and AM3+ CPUs. The models available are the M5A99/97 Series, the TUF SABERTOOTH 990FX and the ROG Crosshair V Formula. Featured models offer ASUS's award winning UEFI BIOS and the second generation of Dual Intelligent Processors (DIP2), comprised of the award winning TurboV Processor Unit (TPU) and Energy Processor Unit (EPU) for superior performance and energy management. The new motherboards will be the first on the AMD chipset based platform to support DIGI+ VRM (Digital power design) and both multi-GPU technologies, AMD's CrossFireX™ and NVIDIA's® SLI™.

ASUS M5A99/97 Series feature Dual Intelligent Processor 2 with DIGI+ VRM

The ASUS M5A99/97 Series motherboards offer unsurpassed compatibility with new AMD AM3+ socket CPUs, while also being backwards compatible with the previous generation AM3 processors. The M5A99/97 core series is equipped with DIP2, which features DIGI+ VRM technology in addition to the TPU and EPU processors that offer enhanced performance and power management. DIGI+ VRM power delivery allows a user to precisely adjust and control power settings digitally for precise power control and flexible tuning of their system.

Unlike older analog designs, DIGI+ VRM is perfectly suited for the AM3+ CPU specification's new power demand requirements that benefit from precise power flow adjustment, enhanced power efficiency and extra DRAM power control for stability. Also included on the M5A99/97 Series motherboards is the intuitive and feature laden ASUS UEFI BIOS menu interface. UEFI BIOS allows a user to control and adjust their motherboard settings through the use of a mouse-enabled interface for a superior user-friendly experience that BIOS and Hybrid-EFI solutions do not offer.

SABERTOOTH 990FX has CeraM!X aerospace-grade cooling technology

The newest addition to the TUF Series motherboards is the SABERTOOTH 990FX. Known for their unrivaled quality and reliability in extreme conditions, the SABERTOOTH 990FX features the use of CeraM!X, an exclusive aerospace-grade cooling material that is extremely effective in conducting heat away from vital system components. Also onboard is ASUS' Thermal Radar technology that consists of ten sensors located on vital motherboard components, which provides users the ability to actively monitor each one individually and automatically adjust fan speeds to ensure a high level of system stability without overheating.

The SABERTOOTH 990FX features TUF components, which are comprised of military-certified alloy chokes, solid state capacitors and MOSFETs built to withstand the most extreme usage conditions possible for greater system stability and longevity. A TUF motherboard built with high-end components ensures quality and tested server-grade reliability and are certified TUF only after a series of extreme stress tests including maximum temperature and humidity tolerance, so users are ensured of owning the best and most reliable motherboard on the market.

ROG Crosshair V Formula redefines AMD Performance

The Crosshair V Formula with AMD 990FX chipset-based is not only the first ROG motherboard with AM3+ CPU support, but it is also the first AMD motherboard to support both 3-Way NVDIA® SLI™ and AMD CrossFireX™ as well as offering an advanced UEFI BIOS and DIGI+ VRM design not available on competing solutions. A wide array of advanced ROG overclocking tools are on hand too, while onboard SupremeFX X-Fi 2 delivers the most intense and immersive gaming audio experience. Better still, high-performance Intel® Ethernet with GameFirst technology creates a LAN connection that is fast enough to keep up with the pace of modern multiplayer gaming over an internet connection that is also used being used for other online tasks.

To really make it the ultimate gaming motherboard, the Crosshair V Formula/ThunderBolt also comes with the ThunderBolt audio/LAN combo expansion card. The class-leading XONAR™ audio technology provides dramatically better sound quality than any standard audio card, while its built-in headphone amplifier with adjustable impedance settings makes it perfect for competitive gaming or enjoying the latest media titles. The Crosshair V Formula/Thunderbolt* also incorporates the award-winning Bigfoot Networks™ Killer™ E2100 networking platform with exclusive Advanced Stream Detect™ technology that automatically classifies and prioritizes traffic for online games, HD video and audio streams for optimum performance, even when performing these tasks simultaneously. ASUS' innovative design and performance trend continues as the Crosshair V Formula features advanced support for 4-way NVIDIA SLI via the use of the exclusive ROG XPANDER add-on board.