ASUS PadFone 2 super-shake dock test demoed ahead of December release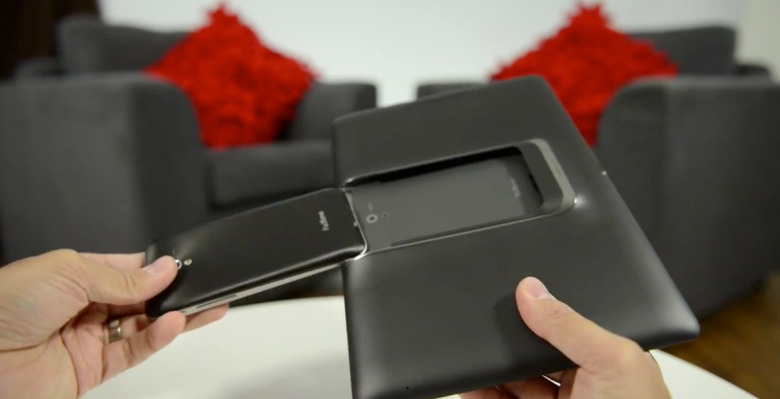 ASUS's freshly announced docking PadFone 2 phone/tablet hybrid will arrive in Europe and Asia before the end of December, complete with a newly-designed dock that can hold the smartphone even if shaken violently. The clever bay – even though it lacks the protective door of the first-gen PadFone – is the result of 2.5 years of development time, and can withstand being bumped, smacked around, and generally mistreated. Check out the video demo of that after the cut.
The switch between phone use and tablet use takes just over a second now, the layout of the screen automatically changing to suit the larger, 10-inch panel of the tablet, or the smaller 4.7-inch panel of the phone itself. Together, they're just 649g, and the tablet section has a battery capable of recharging the phone three times over.
Inside, there's a 1.5GHz quadcore Snapdragon S4 processor paired with 2GB of RAM, up to 64GB of flash storage, and DC-HSPA+/LTE for getting online. The phone has a 13-megapixel camera capable of 1080p HD video recording, and there's Corning Fit Glass on top of the 4.7-inch 1280 x 720 Super IPS+ phone display.
Europe (Bulgaria, Denmark, Finland, Germany, Hungary, Italy, Poland, Portugal, Romania, Spain, Sweden) and Asia (Hong Kong, India, Japan, Malaysia, Singapore, Taiwan, Thailand, U.A.E) will get the PadFone 2 before the year is out, with availability in other countries following on after that. Pricing is €799 for the 32GB model – for phone and tablet – with another €100 getting you twice as much storage.