ASUS' new notebooks, PC, LCDs and WiCast streamer hands-on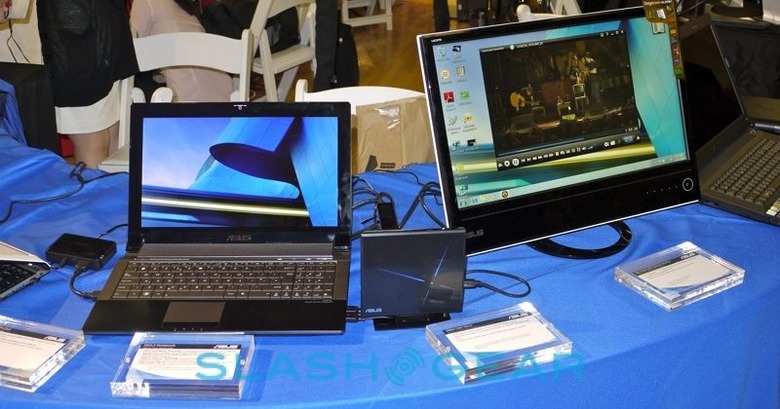 We've already detailed ASUS' new product range, but we thought you might like to see some live shots of the laptops, desktops, LCD monitors and WiCast HD streaming adapter in action.  Altogether there are five notebooks ASUS are pushing in the run up to the holidays, including the Republic of Gamers G73Jw, but it was the WiCast EW2000 that actually grabbed our attention more.
That's because it ticks off a whole lot of the things we'd want a PC streamer to do, including supporting 1080p Full HD, HDMI output for simple HDTV connectivity, and the option to power it via USB or an external PSU.  Setup is plug-and-play if your PC supports WHDI – unsurprisingly ASUS' do – and the company reckons there's under 1ms of latency.  It's priced at $199.99.
The other hardware is ASUS' usual mixture of slick design, with some technology highlights thrown in along the way.  The B&O supplied audio system in the NX90Jq is mighty impressive, while we quite like the ASUS VX6's Lamborghini inspired stylings (and we like even more that performance is decent from the NVIDIA Optimus graphics switching between the integrated and Ion chipsets).  More details in the gallery below.