ASUS' higher end ZenPad S 8.0 model is finally here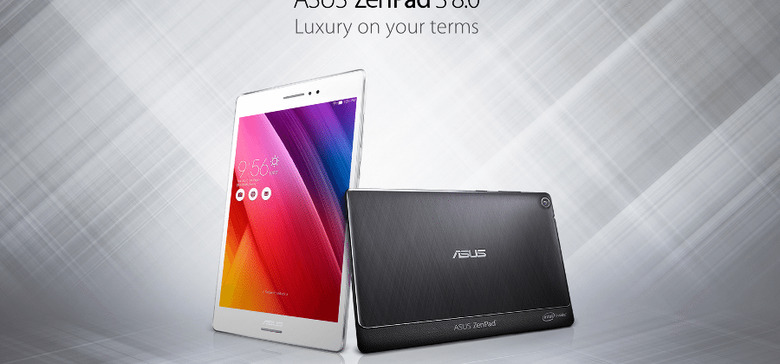 If you've been waiting for ASUS to finally show its hand in the premium Android tablet market, then wait no more. After what might have felt like an eternity for ASUS fans and interested buyers, the manufacturer has finally launched the highest end ZenPad S 8.0 model, specifically the Z580CA. This handy 7.9-inch slate bears what is probably the best of the best components in a tablet this size, perhaps with the exception of the cameras, and has some pretty interesting accessories to match as well.
To give a little recap, in June ASUS announced a new line of tablets, the ZenPad family, that covered a range of sizes and specs. At the top of this list was the ASUS ZenPad S 8.0, which, among other things, sported a 7.9-inch display with a commendable 2048x1536 QXGA resolution and a 64-bit quad-core Intel Atom chip. Last month, the tablet appeared on Best Buy but, alas, it was a slightly lower variant of the ZenPad S 8.0, the Z580C, with half the memory capacity and a slightly slower CPU.
Now the real flagship tablet is hitting stores. The ZenPad S 8.0 Z580CA boasts of that same resolution, a fast 2.3 GHz quad-core Intel Atom Z3580, and a whopping 4 GB of RAM. Storage is only 64 GB, which is high as far as Android tablets go, but it can be supplemented by a microSD card up to 128 GB in size. The rear camera is an 8 megapixel shooter, though the front 5 megapixel camera might appeal to selfie fans.
More than just the specs, ASUS is advertising the ZenPad S' premium look and feel that supposedly takes its inspiration from the fashion world, with a diamond hairline pattern on the back to complement the metallic finish. The tablet is also only 6.6 mm thick and 298 g light, making it very portable and easy to carry around. The tablet is also compatible with ASUS' Z Stylus, a pressure sensitive input tool that fans of the Samsung Galaxy Note line will be familiar with.
All of this comes at a less than flagship price of $299, now available from ASUS' online store, Amazon, B&H Photo Video, Newegg, and Tiger Direct. The ASUS Z Stylus, however, won't be available until September and only from the ASUS Store for $29.99.
SOURCE: ASUS