ASUS Haswell launch begins with all-in-ones and an M51

Today the Intel 4th Generation processor wave begins to creep up once again with ASUS letting it be known that they've got three machines that'll run this "Haswell" generation initially. The first of these is a single black and standard-looking M51 desktop PC – standard looking on the outside, that is – inside it's got a bit more of a punch. Then there's the ET2301 and ET2702, slim form-factor all-in-one PCs as well.
The stark black floor-standing desktop PC you see before you is the ASUS M51, working with a matte finish combined with a textured fascia that makes for a fingerprint-less appearance. Up top is an ASUS Wireless Charger tray so your Qi-standard wireless charging smartphones (like the Nexus 4 or any of various Nokia Lumia devices) can charge with ease.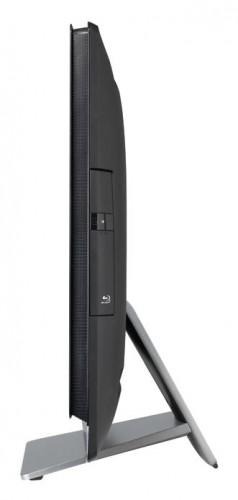 Inside is an ASUS Universal Storage Module using an industry-standard interface up in a front drive bay – USM compatible portable hard drives can be swapped in and out with native SATA connections. Inside is also ASUS Smart Cooling system working with automatic fan speed control – not unlike that which we've seen recently in NVIDIA's 700-series graphics card releases. This machine is ready to roll with either NVIDIA or AMD discrete 3D graphics as well as ASUS SonicMaster audio technology.
The ET2301 and ET2702 work with 23-inch and 27-inch widescreen displays, the larger working with 10-point multi-touch touchscreen technology while the smaller works with 5-point multi-touch. The ASUS ET2702's 27-inch display works with ultra-high 2560 x 1440 resolution, while the ET2301's 23-inch display works with Full HD 1920 x 1080. Touchscreen abilities are optional on both of these models.
The ET2702 features the option of Intel Thunderbolt ports and can act as a second screen for your notebook computer. Connecting a notebook with HDMI and USB cables to the ET2702 allows access to display, speakers, and USB peripherals. The ET2301 and the ET2702 work with 178-degree viewing angles as well.
Both all-in-one models work with ASUS SonicMaster technology as the M51 does, while they're both also available with an optional desktop subwoofer for bass performance as well. And of course, most important of all, each of these models will be available with 4th generation Intel Core processors. Pricing and release dates have not yet been made public.