ASUS Eee PC T91 touchscreen netbook UK launch revealed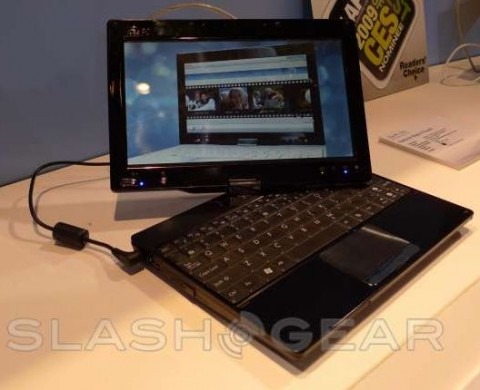 Hot news for anybody hoping to kick off the summer with some touchscreen netbook action at the beach, as ASUS reveal their launch schedule for the Eee PC T91.  The convertible netbook – announced all the way back in January at CES – will be arriving in the UK in late May or early June, with a MRSP of £449 ($675).
The company is yet to confirm US launch details, but given we saw the ASUS T91 gracing the test-benches of our FCC overlords at the start of April it's a fair bet that availability isn't far off.  As far as we're aware, the model coming to the UK by June is not the T91GO, the HSDPA-equipped netbook that was announced at CeBIT in March.
Final specifications for the T91 are still unconfirmed, but we do know that it uses an 8.9-inch capacitive touchscreen, Intel Atom processor (the Z520 in previous demonstrations) and 1GB of RAM.  Optional GPS and a TV tuner have also been suggested, though again they're unconfirmed for this first launch, and the whole thing uses ASUS' home-grown Eee PC Touch UI which you can see demonstrated here.