ASUS Eee PC T91 On Sale In US: $499 And In-Stock [Updated]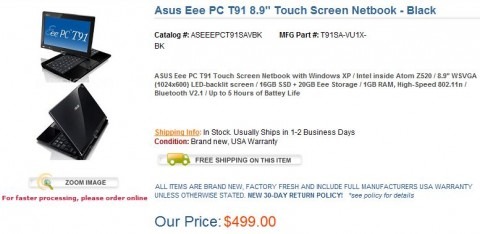 We've been waiting some time for the ASUS Eee PC T91 to arrive in the US, and according to online retailer BuyDig that wait is over.  They're listing the 8.9-inch touchscreen convertible netbook in-stock for $499, complete with free shipping and Windows XP.
Update: BuyDig have changed their listing from the screenshot below to "no stock yet – accepting pre-orders".  No word on when stock is expected [Thanks Imarie!]
The specific model on offer appears to be the basic single-touch T91, going by the confirmed UK specifications we saw earlier this week, with an Intel Atom Z520 1.33GHz processor, 1GB of RAM, 16GB SSD (and a 16GB SD card) and 1024 x 600 resistive touchscreen.  Wireless connectivity includes WiFi b/g/n and Bluetooth 2.1+EDR, but no integrated 3G.
Still, even without the multitouch of the T91A or the 3G/GPS/TV-tuner of the T91GO, the twisty touchscreen tablet is still appealing.  Anybody going to take the plunge?
[via Portable Monkey]