ASUS Eee PC 1215N: dual-core 1.5GHz Atom, NVIDIA Ion, Optimus & July release?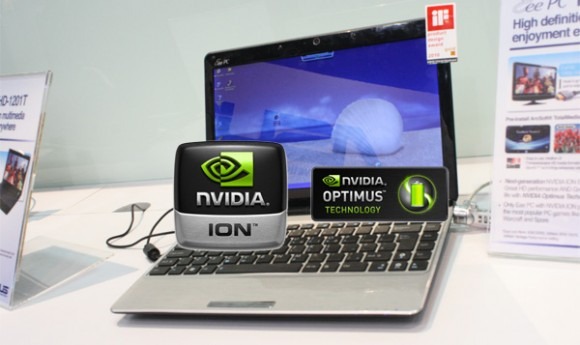 More details on the ASUS Eee PC 1215N are seeping out, ahead of the netbook's expected debut on May 13th, and it's shaping up to be a pretty impressive ultraportable.  According to AllAboutEeePC the 1215N will indeed have the new dual-core 1.5GHz Pine Trail Atom N500 processor expected to hit production in July, together with NVIDIA's Ion GPU.  However, unlike the Eee PC 1215PN, the 1215N will support NVIDIA Optimus for automatic graphics switching.
That means the 12-inch netbook should be capable of 1080p HD output but also able to scale back its graphics prowess when it's not required so as to eke out extra battery life.  Regular browsing and emailing will rely on the standard Intel GMA 3150 GPU, while multimedia and even gaming will use the 16 core Ion.
Actual performance figures are unknown at this stage, as are battery estimates, but the ASUS Eee PC 1215N is predicted to go on sale come July 2010.  Pricing is expected to be between $550 and $600, making it expensive for a netbook but – if the dual-core Atom and Ion GPU can live up to expectations – comparatively cheap for an ultraportable.