ASUS Eee PC 1201N gets graphics benchmarked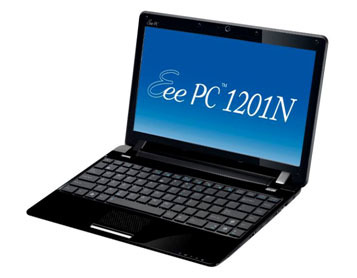 We've been eagerly awaiting the arrival of ASUS' Eee PC 1201N, the 12.1-inch ultraportable packing Intel's dual-core Atom 330 processor and NVIDIA Ion graphics, so imagine our jealousy when SlashGear reader Vention got in touch to let us know he'd managed to acquire one.  Rather than gloat, Vention ran the benchmarks we've been waiting to see and compared the 1201N with the HP Mini 311.
Unfortunately, if we were hoping the 1201N would show the Mini 311 (which uses Ion LE graphics) its heels and use its processor – which is more regularly to be found in nettops than it is in netbooks – to help whip through the benchmarks, we'd be disappointed.  In fact, the two machines seem reasonably well matched, with the ASUS edging slightly ahead in 3D Mark 2006 but actually behind the HP in 3D Mark 2005 and 2003.
Of course, 3D Mark only really tests graphics performance, and so we'll have to wait and see how the 1201N does in more all-round benchmarking.  Still, as we learned earlier today, an Ion-based machine can certainly hold its own against Intel's upcoming Pinetrail CPUs, so the ASUS shouldn't be instantly outclassed once the next-gen models turn up in early January.