ASUS Eee PC 1000HD: the 10-inch 900Mhz option nobody asked for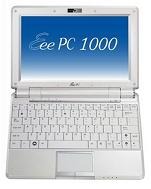 ASUS seems to have confused "innovation" and "repetition", since they're apparently committed to churning out every possible combination of Eee PC possible.  Latest to clog up comparison charts is the 1000HD, the dreary offspring of the existing 1000H and 904 models.
That means the 10-inch display of the 1000H, coupled with the 904's 900MHz Dotham processor.  Otherwise it's another exercise in deja-vu, with an 80GB HDD, between 1 and 2GB of RAM, a 1.3-megapixel webcam and (depending on whether you read ASUS' blurb or their spec chart) either b/g or draft-N WiFi.
ASUS have been rightly credited with kicking off the current budget ultraportable free-for-all, and their original Eee intentions were good (cheap machines, straightforward specs, a willingness to admit that the notebooks weren't meant to do everything).  This tendency toward confusing product line crossover and less-than-intuitive nomenclature won't be doing them any favors; right now they need to be looking to how they can compete with Dell's upcoming E, not cluttering up the higher-end range with models few will be interested in.
[via Engadget]