ASUS Eee PC 1000 specs leak: 2GB RAM, 80GB HDD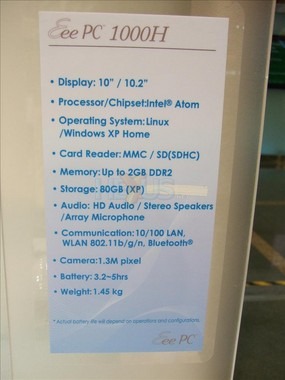 I'm sorry if it's seemed somewhat budget ultraportable heavy today, but the pre-show news out of Computex keeps spilling through the wires and we can't help but lap it up.  Latest tidbit is the partial spec-list for the soon-to-be-announced ASUS Eee PC 1000, the notebook expected to be the largest in the Eee range.  Up until now the 1000-series was presumed to be the guts of the 8.9-inch Eee PC 901 rammed into a slightly larger case, but a surreptitiously snapped listing at the ASUS stand indicates it's actually a fair improvement on the smaller model's abilities.  Listed here as the Eee PC 1000H, it features either a 10 or 10.2-inch display, 2G of RAM and 80GB of storage space (on the XP version at least).
That's double the RAM of the 901, and quadruple the storage.  However the 901 does rely on SSD while as far as I'm aware there isn't an 80GB SSD on the market, meaning the 1000H is likely using a traditional (and cheaper) hard-drive.  The Intel Atom processor, 1.3-megapixel webcam and choice of Windows XP Home or a Linux OS is the same.
With the official announcement expected tomorrow, ASUS wouldn't give any more details.  Neither price nor release date for the 1000-series are known, though the latter is expected to be before the end of the year.  We'll bring you more when we hear it!