ASUS Eee Pad Transformer Review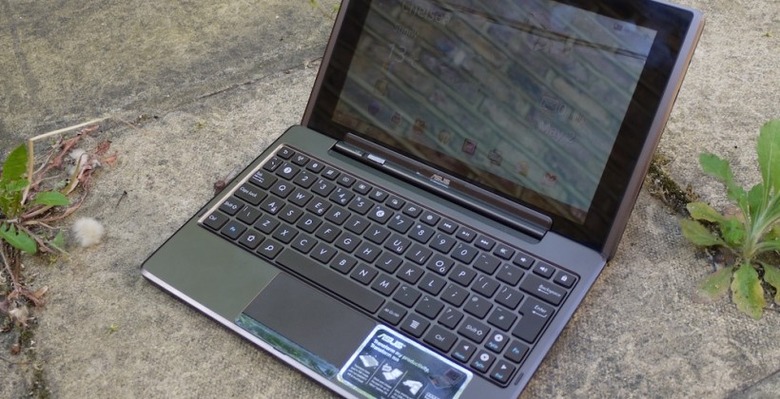 ASUS has been plugging away at tablets for years now, experimenting with convertible netbooks and trying to coax some semblance of finger-friendliness out of Windows. It's taken Android 3.0 Honeycomb and the ASUS Eee Pad Transformer TF101 to actually deliver, however: an eye-catching hybrid offering the touch-usability of a slate and the content creation flexibility of a Keyboard Dock. Has Eee Pad outclassed iPad 2 or do the ASUS Transformer's two halves not quite add up to a whole? Check out the full SlashGear review after the cut.
Hardware
With its plastic chassis and brown color scheme, the Eee Pad Transformer is always going to struggle against the brushed metal and wafer-thin build of the iPad 2. At 271 x 171 x 12.98 mm and 680g, ASUS has produced a bigger slate than the Motorola XOOM and iPad 2, with a similar bowed-back profile to the original iPad. The textured plastic is at least reasonably flex-free and easy to grip.
The 10.1-inch 1280 x 800 capacitive touchscreen supports 10-finger multitouch and is covered with a slab of toughened Gorilla Glass. Underneath is a 1.2-megapixel front-facing camera for video calls, along with a light sensor for controlling display brightness. That display is a superb IPS panel with brilliant viewing angles (ASUS says 178-degrees), color accuracy and brightness, on a par with what you'd find on the iPad. Unfortunately it loses its appeal when in direct sunlight: IPS LCD has its benefits, but unlike Samsung's Super AMOLED Plus, for instance, you won't be doing much tableteering outdoors.
ASUS Eee Pad Transformer:
[vms 211726dcce4c0e971e21]
Controls are minimal – a small power/lock button on the edge, above a volume rocker – though you do get more ports than on an iPad: a 3.5mm headset socket, microSD slot, mini HDMI 1.3a and a proprietary docking connector. The latter is used either for directly charging the Transformer with the bundled AC adapter and USB cable, or for hooking up the docking keyboard section.
That clicks securely into place with a reassuringly tactile feel, and offers a power connector (which charges both the Transformer and the keyboard dock's own battery), two USB 2.0 ports and a MMC/SD/SDHC memory card reader. We'll cover the keyboard dock in greater detail later in the review.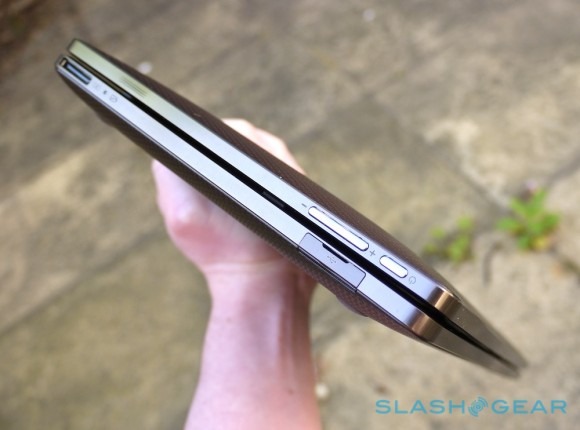 Inside is the same NVIDIA Tegra 2 processor as you'll find in Motorola's XOOM, paired with 1GB of memory and either 16GB or 32GB of SSD storage depending on model. Connectivity includes WiFI b/g/n (2.4GHz only) and Bluetooth 2.1+EDR as standard, while there's the regular gamut of GPS, digital compass, gyroscope and g-sensor. The stereo speakers lurk down near the bottom of the sides, and are relatively quiet; there's also a built-in microphone. Finally, a 5-megapixel rear camera promises stills and 720p HD video recording.
Software
We've already covered Android 3.0 Honeycomb in our full review, so the day to day experience on the Eee Pad Transformer is much as we've seen on the XOOM. ASUS has added some custom apps and made some other tweaks, though nothing that will earn them Google's ire for unduly changing Honeycomb.
Some of them are minor, like the cool water-level Live Wallpaper which shows battery status (and device orientation) by a shifting tide up the screen, and others are more complex. The ASUS Launcher consists of three new homescreen widgets: a date/weather widget that blends forecast animation into the wallpaper, a simple date/time widget, and a mail widget with a count of new emails and which acts as a shortcut into the mail app itself. Honeycomb's default keyboard can be swapped for a 'board of ASUS' own, with a dedicated number row.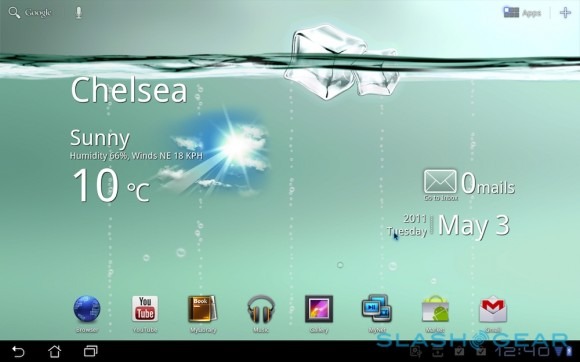 Then there's ASUS' File Manager app, which works alongside the USB 2.0 ports on the Keyboard Dock, and which – unlike the similar apps from some other OEMs – had no problems opening an Android .apk file. MyCloud is a gateway to ASUS' Webstorage – a year's access to which is included in the tablet's purchase price – as well as, via its free Eee Pad PC Suite, remote desktop access for your PC or Mac. There's also internet radio streaming, direct to the Transformer, along with the DLNA streaming and sharing app MyNet. Finally, Polaris Office opens the door to document – text, spreadsheet and presentation – editing and creation on the ASUS itself.
Performance is solid, though admittedly lacks some of the consistency we've grown use to from Apple's iPad 2. There's no one specific task or activity we can point to, nor an app we can pinpoint for an underwhelming showing; instead, it's a case of some bumpy screen and app transitions, hiccups in touch responsiveness, a little more lag at times than we'd like to see. They're enough to remind us that Honeycomb is still a relatively fledgling tablet platform, though an ASUS firmware update we were prompted to install when first powering on the slate does show that software tweaks are coming all the time.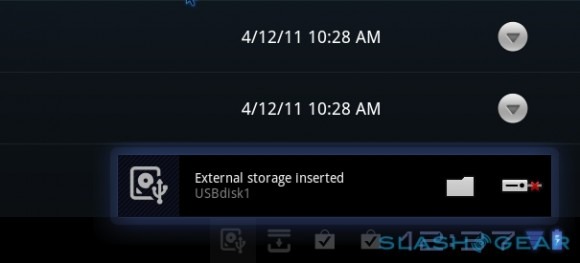 In terms of raw benchmarks, the Eee Pad Transformer scored 1927 in Quadrant Standard and 2138 in Quadrant Advanced. In Linpack Pro it managed 42.233 MFLOPS, while in the Sunspider test of browser JavaScript performance, it managed 1888.3ms (lower is better). Finally, in Smartbench 2011 it scored 3512.
That all puts it roughly on a par with the Acer Iconia Tab A500 and XOOM, as you'd expect given the similar specifications and software. Also carried over from those slates is a general shortage of tablet-specific apps in the Android Market. Honeycomb does a decent job of scaling smartphone apps to suit the bigger, higher-resolution screen on the Transformer, though there's undoubtedly more to good tablet software than being bigger smartphone software.
Android 3.0 still lags behind the iPad in terms of sheer number of titles, and some incompatibility issues with software intended for phones did put a dampener on the over Eee Pad experience. Qik Video Chat, for instance, crashed every time we loaded it. It can be trial and error as to what will run and what won't, sometimes complicated on the Transformer by the fact that some apps will only run in portrait orientation, tricky when you're trying to use the tablet in landscape with the Keyboard Dock.
Camera and Multimedia
ASUS has outfitted the Eee Pad Transformer with two cameras, a 1.3-megapixel webcam on the front for vanity shots and use in Gtalk video calls, and a 5-megapixel camera on the back for stills and up to 720p HD video recording. Stability of the camera app could do with some work, however; on a couple of occasions it would freeze, with the preview no longer functioning, though generally either flipping between the front/rear cameras or, as a last resort, restarting the app would address that.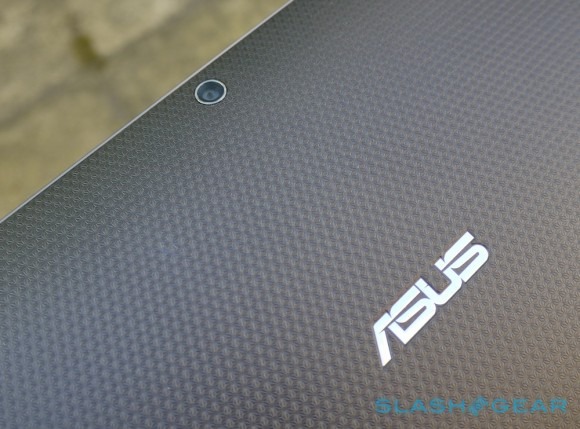 Stills are only average, with more soft edges than we're used to from 5-megapixel phones, though colors are generally accurate. Close-ups fair better, though since there's no LED flash low-light shots are generally too murky to be useful. Coupled with the slightly bizarre feeling of holding up a 10-inch tablet to take a shot, we can't see the Transformer's camera getting significant use.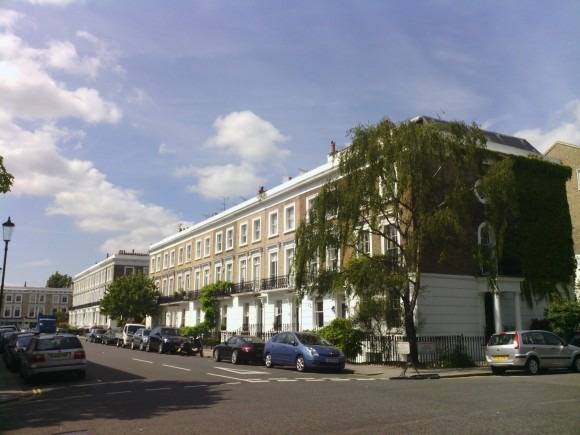 Video, meanwhile, seems to be giving ASUS some significant headaches. Viewed on the Transformer itself, clips are generally fine, though there are a few dropped frames leading to some mild jerkiness. YouTube, as in the sample below, handles them roughly the same, but when we tried to watch the .3GP clips on our computer, there was bizarre blockiness, all manner of glitches, and gobbled audio. We're not quite sure what's happening, but it does mean that you could send a clip to a friend and them find it simply unwatchable.
Keyboard Dock
ASUS' Keyboard Dock is undoubtedly what makes the Eee Pad Transformer so interesting, a matching peripheral designed to turn the TF101 into an Android netbook/smartbook. It's not, however, solely about text entry: there's also an integrated battery, with which ASUS reckons the Transformer will last an extra 6.5hrs.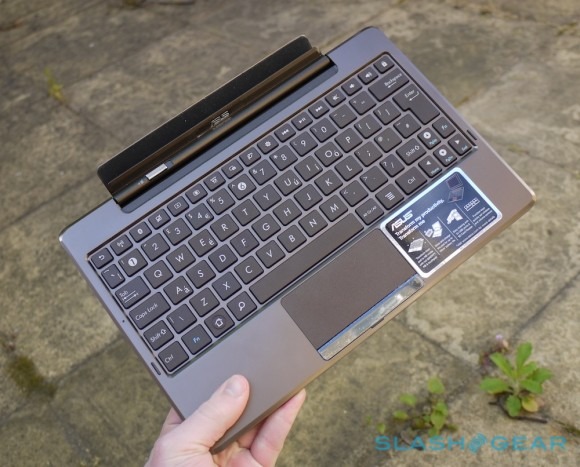 If you've used a recent ASUS netbook then you'll probably feel no surprise with the Transformer's keyboard. An optional extra – which we think is a mistake on ASUS' part – it has a full QWERTY layout and a trackpad with multitouch gesture support for two-finger scrolling, as well as the aforementioned twin USB 2.0 ports, SD card reader and pass-through charger/sync port. We had no problems getting the Transformer to recognize various USB thumb drives, with a USB icon showing in the bottom right hand corner notification area – tapping that opened either the file manager app or unmounted the drive for removal. Similarly a USB mouse worked with no issues.
Where usually there'd be a function key row, ASUS has slotted in a range of shortcuts and other useful buttons. From left to right there's back, WiFi, Bluetooth, trackpad on/off, brightness up/down, auto brightness, screenshot, browser, settings, three music controls (for back, play/pause and forward), mute, volume up/down and lock. There are also dedicated home and search keys down to the left of the spacebar, and a menu key on the right. We're pleased to see a double-size Enter key, on this UK layout at least, though the undersized Shift buttons are disappointing.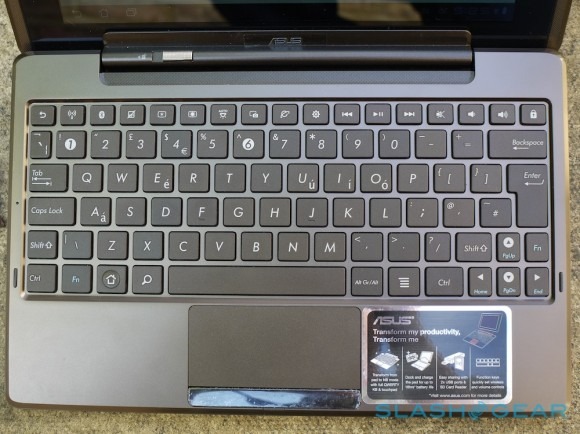 Key action is decent, with a nice degree of bounce from the springing and a surprising amount of travel. It's not quite a 100-percent full-size layout, though, so if you're planning on any significant amount of text entry then you might be better off with a regular USB or Bluetooth keyboard. Still, in comparison to the on-screen keyboard, it's far preferable. Virtual keyboards are fine for pecking out URLs and search terms – though Honeycomb's voice recognition system is good enough to replace it in the latter case – but there's nothing like a physical 'board for anything more ambitious.
One frustration is in how copy & paste is handled in ASUS' pre-loaded Polaris Office. Everywhere else in Honeycomb you can hold down the Shift key and use the arrows to highlight text, then Ctrl+C to copy and Ctrl+V to paste. In Polaris, however, you have to tap the screen to select: the shift/arrows won't highlight.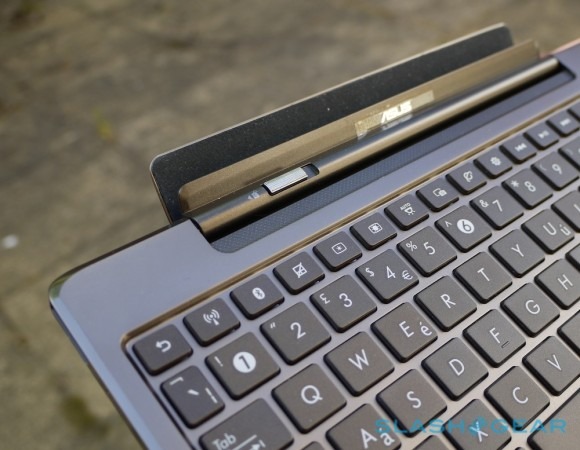 Docking the keyboard is a simple matter of slotting it into place, while releasing it involves sliding a small latch across and pulling: it's a snug fit, but not to the point where extracting the Transformer is a headache. The hinge itself is firm and, by virtue of its shape, props the keyboard up at a comfortable typing angle when it's opened. If you haven't set a screen lock password then opening the keyboard up automatically takes you to the homescreen.
Battery
On its own, the Eee Pad Transformer is rated for up to 9.5hrs of runtime on a single charge of its 24.4Wh Li-Polymer battery, playing 720p HD video with brightness at 60 nits. Throw in the Keyboard Dock and ASUS reckon you'll see up to 16hrs. In practice, it's obviously very dependent on what you're doing with the slate. With a combination of playing streamed video over WiFi, web browsing, some photography and push-email turned on, we managed between 6.5 and 9 hours with the slate alone. With the keyboard attached, that extended by 6-7hrs.
Standby times did seem less impressive than on the iPad, however. Where we can leave the Apple slate for over a week and still have juice left to play, after a few days the Transformer had expired. True, it was checking email over WiFi along the way, but the iPad seems to be able to manage that and still keep hold of a charge.
Price and Value
If it's the Keyboard Dock that makes the Eee Pad Transformer eye-catching, then it's the tablet's price that holds our attention. For the 16GB TF101 slate alone it's $399 in the US or £379 in the UK; the 32GB model is $499 or £429 respectively. The Keyboard Dock is a $149 accessory in the US, or offered with the 16GB slate in the UK for £50 more. What's absent at this stage is a 3G-enabled version, which ASUS says will follow on in a couple of months time.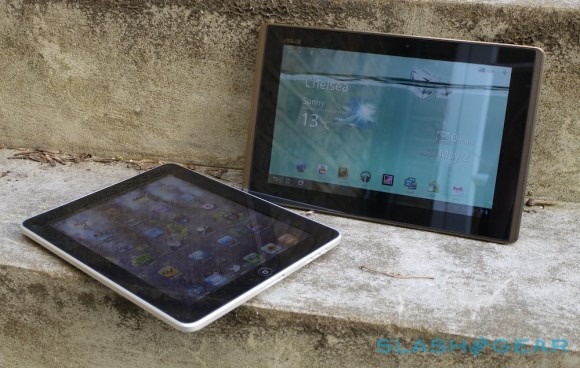 When you consider the WiFi-only Motorola XOOM (with 32GB of storage) is $589.99, that's some very competitive pricing from ASUS. It's a similar story in the UK, with the WiFi XOOM there priced at £479.99. Admittedly the Keyboard Dock adds on top of that, but given the extra battery life it brings (and the fact it protects the Transformer's display when closed) we can see most Eee Pad buyers opting to pick it up as well.
Wrap-Up
Android 3.0 is a still a young platform, and Google still has work to do to bring it up to speed with iOS on the iPad. That's the unescapable fact about all Honeycomb-based tablets around today; similarly important, though, is that all evidence suggests that Google is determined to do just that. The Android Market may lack tablet-specific bulk but that should change as availability of slates running Android 3.0 grows.
Whether it's manufacturers or Google itself pushing for minimal OS modification, the end result has been a little more imagination in other areas of the tablet experience. On the Transformer, that's some sensible software pre-loads – as opposed to the usual bloatware – and a form-factor that legitimately turns the Eee Pad into a netbook alternative. No, the tablet won't do everything a Windows-based notebook can, but for many it will be just enough to tip the Transformer over from being a media- and internet-centric luxury to something they can legitimize as a work and play travel companion. Being able to remotely log into our home computer and access files there, as well as not only review but create and edit documents on the ASUS left us feeling a whole lot more confident about leaving our laptop at home.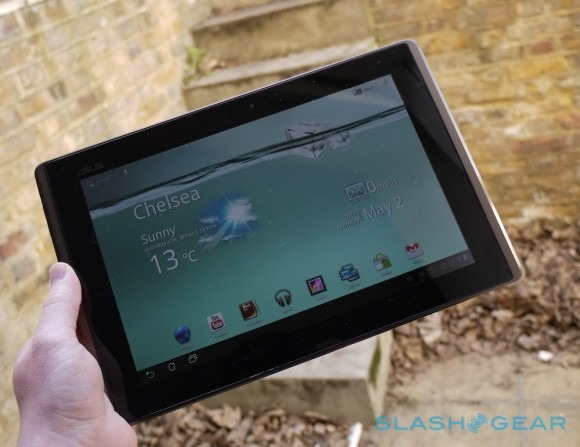 There's still room for improvement, of course. Google will take care of polishing Honeycomb's rough edges, but ASUS needs to work on its camera stability and performance, and make sure the apps it preloads are consistent with the hardware. Still, we're more willing to excuse the lapses given the Transformer's sticker price, competitive not just with other Android tablets but with the iPad 2.
It's what ASUS brings extra to the table that makes the Eee Pad Transformer the best Android tablet on the market right now. Its excellent IPS display – albeit only really suitable for indoor use – and clever Keyboard Dock outshine the XOOM and Iconia Tab A500, while its content-creation strengths are arguably far more useful than the 3D on T-Mobile's G-Slate.
Whether Samsung's slimline form-factors and custom software on the incoming Galaxy Tab 10.1 and Galaxy Tab 8.9 will outweigh the Eee Pad's keyboard (and the extra runtime the battery in that allows), or whether the HTC Flyer's active stylus will be preferable, remains to be seen. The Android tablet market is only set to become more competitive as 2011 progresses, but right now ASUS has come closest to the promise of an affordable, innovative slate using the Google OS.