ASUS Eee Pad Transformer Getting Android 3.2 Honeycomb Tomorrow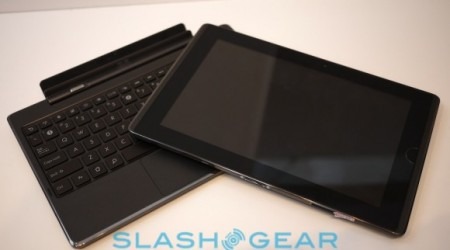 That was fast. ASUS has confirmed via Twitter that the Android 3.2 Honeycomb update will be rolling out tomorrow, July 28, to its ASUS Eee Pad Transformer tablet. The tablet has been incredibly popular for its keyboard dock that turns it into a notebook hybrid, but has likely been a crowd pleaser for its speedy update turnaround times as well. Its last update to Android 3.1 Honeycomb was just released in the beginning of June.
Android 3.2 is expected to be the last Honeycomb update before Google launches the unifying platform called Ice Cream Sandwich, first revealed back at Google I/O. The update is said to bring a new "compatibility zoom" option that will make viewing smartphone apps more pleasant on the tablet. Instead of just stretching the app to fit, Android 3.2 will use pixel-scaling.
Another major enhancement is support for smaller-sized screens that will make it more ideal for 7-inch tablets such as the upcoming Huawei MediaPad as well as the previously released HTC Flyer, which currently still runs on Gingerbread. The Motorola XOOM Wi-Fi version has already gotten its 3.2 update, and ASUS is following quickly. However, it's not clear whether the update will be rolled out over time starting tomorrow or altogether.