ASUS Eee Pad MeMO Shows off HD Games at Uplinq 2011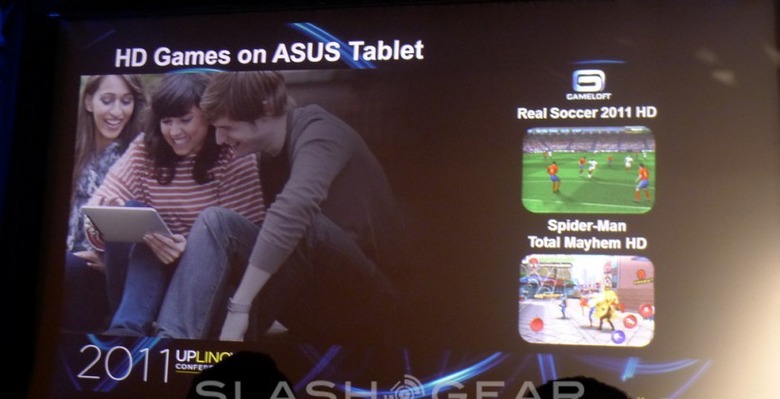 At Uplinq 2011 in an event by the name of Technical Super Session: What Your Apps Can Do When You Target Snapdragon, Qualcomm demonstrated two Gameloft games, one by the name of Real Soccer 2011 HD, the other by the name of Spider-Man Total Mayhem HD. Both of these games you can expect to be listed amongst the rest of the the team on Qualcomm's Snapdragon Game Pack – click that link for more information in a 101 article of ours. Both of these games are shown working at over 30 frames per second and both are being shown off on the brand new ASUS Eee Pad MeMO – 3D tablet sweeness playing some Snapdragon-optimized games for the win!
Real Soccer 2011 HD
This is, as the title implies, a soccer game that relies on virtual buttons and a joystick on the display's screen, showing off both tiny-person gameplay running across the screen kicking the ball in a seamless interactive environment, plus instant cinematic once a goal is scored. This does look like an impressive game to be sure, but we're definitely hoping for a longer look soon down the line.
[vms a4758191e42f76670ceb]
Spider-Man Total Mayhem HD
This game is certainly the start of something gigantic as Marvel Comics are no small name in video games, the first of a long line of amazing comic book games to be sure. Again massively impressive and smooth gameplay as well as cinematics all controlled via virtual buttons and joystick on the display.
Ramping up for a great year in Qualcomm Snapdragon optimized games!
Stay tuned to SlashGear for all the Qualcomm Uplinq 2011 news you can handle – comin at ya from all angles!