ASUS Eee Monitor & Eee TV confirmed for September; new products in Q4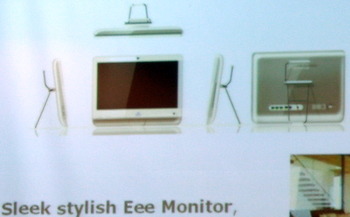 ASUS have dropped a few more details – and a couple of images – of the all-in-one Eee Monitor PC that was first rumored back in January.  The computer, which is built into an LCD screen a la the iMac, was predicted to come in at $499; ASUS are now saying to expect it in September, although they've given no pricing suggestions.  If the original rumors were true, it will have a 19 to 21-inch screen and a built-in TV tuner.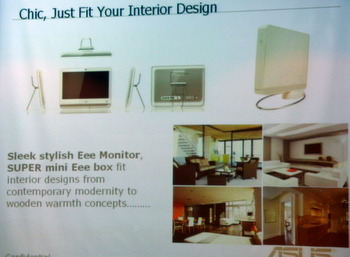 September will also see the launch of the Eee TV, a 42-inch LCD TV that will also have the functionality of an Eee Box B202.  ASUS are reiterating that adding computer functionality to the Eee TV should result in no more than a $200 premium over screens of the same size.
Finally, company CEO Jerry Shen dropped word that two new Eee products are in the pipeline, with an expected launch in the final quarter of 2008.  Codenamed "Eee S1" and "Eee K1", none of ASUS' representation could be persuaded to spill any details, even as to the nature of the additions.