ASUS looking to expand their Eee line beyond the notebook form factor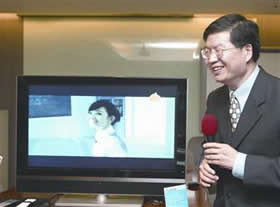 So far there are talks of an E-DT or desktop and an E-TV monitor. The idea behind the new products will be the same as it was with the Eee, make a great product that you can profitably sell for dirt cheap compared to its competitors.
The desktop is rumored to be unveiled at CeBIT and is said to be sold monitor-less. It will apparently have Intel processors as well, starting with a Celeron, and moving to the Shelton '08 platform as soon as Intel releases it.
Initially it will sell for around 2-300 dollars, but they hope to push the price down to $199. The E-Monitor will be an all in one PC ala the iMac or XPS One and will have a 19-21" screen, a built in TV-Tuner and pricing as low as $499 whenever its released.
The E-Monitor will also be based on the Shelton platform and won't be coming out until September this year. The last product, and it's a big one, will be the E-TV which will be a 42-inch LCD TV, but it will have some of the same Linux functionality the other products have built in, and won't have more than a $200 premium over other sets in its class for that added functionality, meaning that right now it should cost about $1200.
[via newlaunches]