ASUS Eee Box EB1012 and EB1501 Ion-toting nettops get video hands-on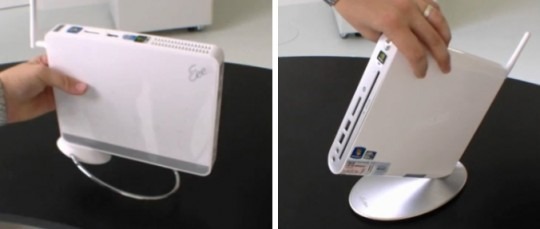 We may receive a commission on purchases made from links.
ASUS' latest NVIDIA Ion based nettops have been well and truly pawed over by NetbookNews.de, and considering that the Eee Box EB1012 at least seems destined for the US market it's only right that we should take an interest.  The EB1012 – and the ASUS Eee Box EB1501 – uses Intel's dual-core Atom 330 1.6GHz processor, paired with the Ion 1080p-capable graphics chipset, with the key difference being that the EB1501 finds room to squeeze in an optical drive.
Video demos after the cut
Each machine has a 250GB hard-drive and 2GB of RAM, together with multiple USB 2.0 ports, eSATA and HDMI.  There's also onboard WiFi b/g/n, with an external antenna for improved reception.
Both nettops are up for preorder on Amazon Germany's site, priced at €410.98 ($614) for the Eee Box EB1501 and at €338.98 ($507) for the Eee Box EB1012; however the MRSP of the EB1501 is now known to be €399 ($596), so expect the Amazon price to slip downwards.  Each is available in black or white, and they're set to begin shipping on October 22nd (when Windows 7 officially launches).
ASUS Eee Box EB1012 overview:
ASUS Eee Box EB1501 overview: