ASUS Eee Box B206 reviewed: mixed HD bag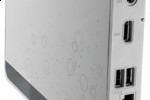 From the very start, ASUS' Eee Box nettop caught the eye as a potential media PC, and the company themselves threw their hat into the ring with the launch of the Eee Box B206.  Swapping the DVI output for an HDTV-friendly HDMI, and slotting an ATI Mobility Radeon HD 3450 GPU with 256MB of its own DDR2 RAM in instead of the integrated graphics, the B206 promises high-definition playback above its humble Atom roots. 
The Register have been taking a look at the nettop, and in some ways the B206 does deliver.  Standard definition video runs with no problems, and DivX 720p files in Windows Media Player were also smooth; however, the B206 showed itself to be particularly picky about codecs.
The problem is that not all media player apps support DirectX Video Acceleration (DXVA), the technology which lets the Radeon HD 3450 GPU get its teeth into the video.  Without that, it's up to the Atom N270 1.6GHz chip to keep things ticking over, and we already know that Intel's CPU struggles with high-resolution media. 
It's a situation reminiscent of the Acer AspireRevo, the nettop which combines an Atom processor with NVIDIA's Ion graphics chipset.  That can play 1080p video with no problems, but only if they're using codecs that the Ion GPU handles.  Other tasks – such as general processing – are left to the Atom chip, and that just can't keep up.
In the end, the judgment is that the ASUS Eee Box B206 makes for a reasonable media PC for occasional playback, but you should check your existing content library for which codecs are used first.  The B206 is available now, priced at around £310 ($469).