ASUS ChromeBook Flip Review : tiny hero, shiny and chrome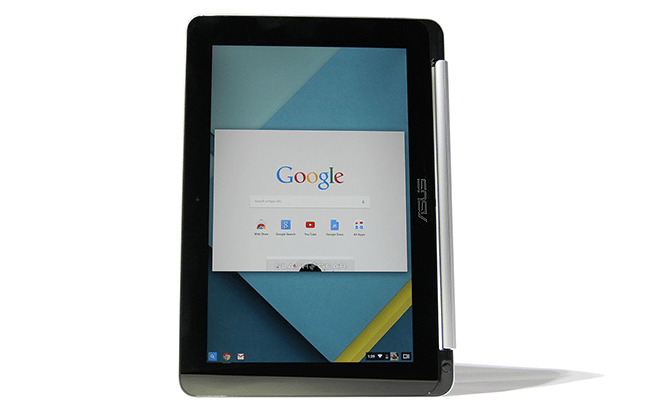 Witness this – a web-browser notebook that flips back into a tablet, made with metal, sporting a touchscreen, that won't break your bank. That's what ASUS has up for grabs with the ASUS Chromebook Flip (C100). This is like the first in a line of Chromebook Flip machines from ASUS because they've done something we'd be surprised if consumers didn't latch on to like mad. That's a low-cost Chrome OS notebook that doesn't look or feel low-cost. It feels positively premium, believe it or not, and it does just what a Chromebook should – make full use of the internet.
Design
The device you're looking at here comes with a 10.1-inch display with 1280 x 800 pixels across it. While that may be nothing compared to the smartphone you hold in your hand right now, it's plenty for a notebook computer of this size. It's not as dense as a "retina" display on a MacBook, but it's sharp enough not to look pixelated compared to computers of the past several years in this price category.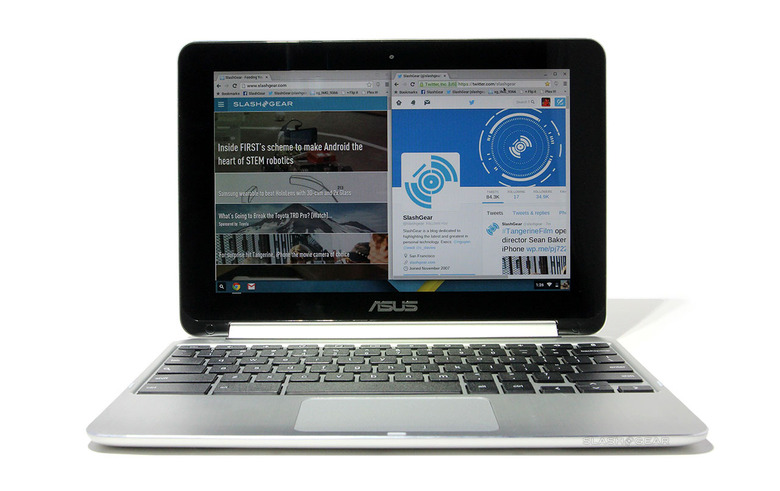 This display is perfectly fine straight on.
Once you start having the device folded down into tablet mode and want to look at it from all manner of odd angles, you'll start to see how this Flip device doesn't have the greatest display in the world.
It's not meant to.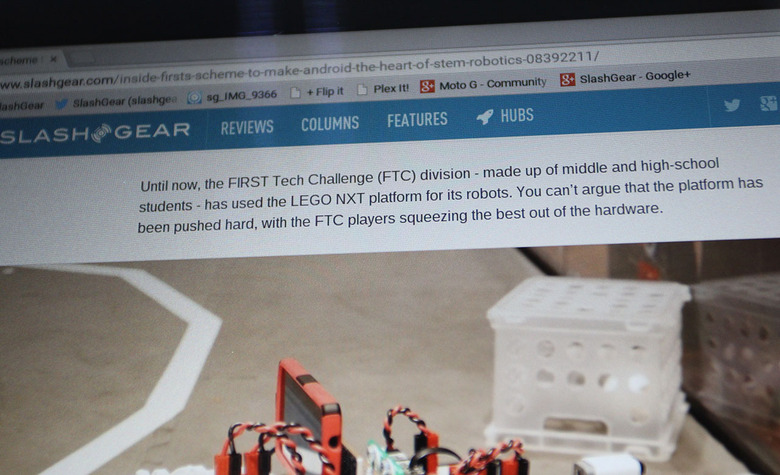 It folds back, too – as you can see. This device isn't called the Chromebook Flip for nothing.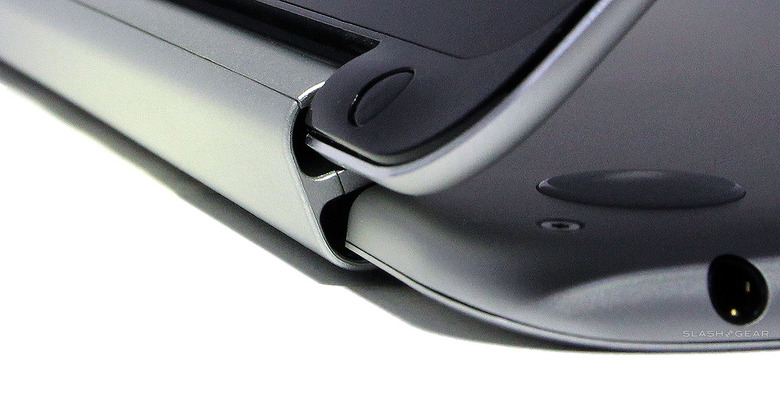 While it pales in comparison to the still-impressive Chromebook Pixel released by Google back in March of 2013 then re-released in March of 2015 for screen density, the Chromebook Flip stands alone in its ability to be shiny, chrome, AND flip back 360 degrees. Its display folds back so that you might use the Chromebook Flip as a tablet.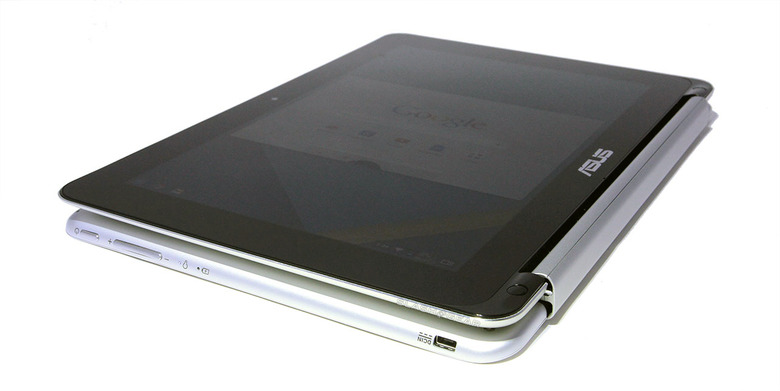 Around the sides you'll find 2x USB 1.0 ports, a single microSD card slot for transferring files to and from your smartphone, if you wish, or keeping additional storage onboard this unit.
You'll also have one 3.5mm audio jack for a microphone/headphones combo.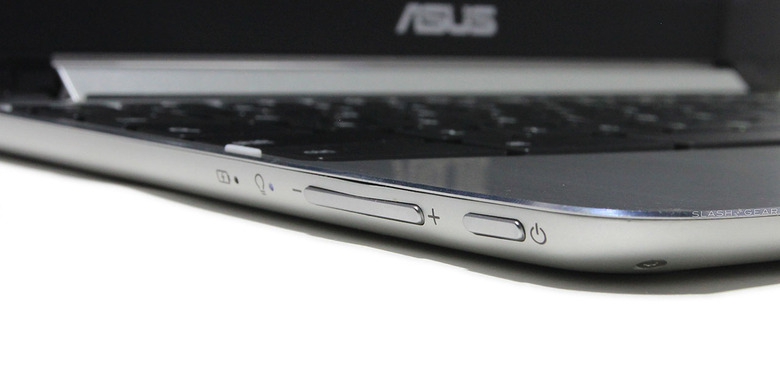 Inside you've got 16GB of SSD-based storage as well as 802.11 Wi-Fi and Bluetooth 4.0.
Two editions of the ASUS Chromebook Flip C100 exist, one with 2GB of RAM, the other with 4GB. You'll pay $250 for the smaller internal memory edition and $300 for the larger.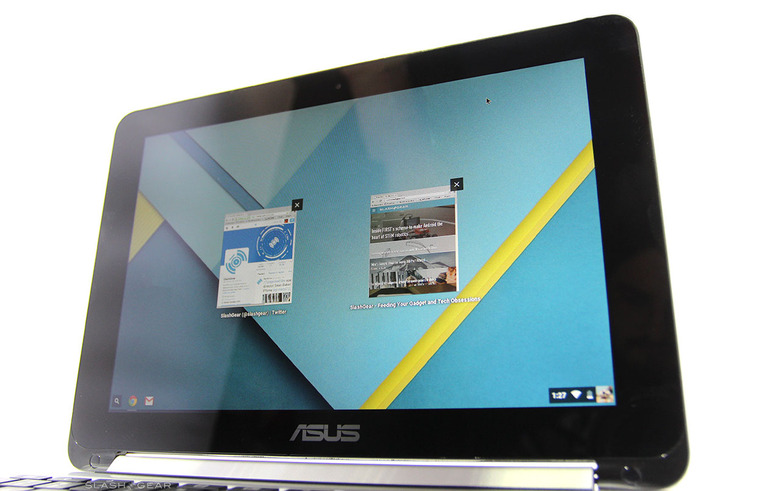 While the low power tasks most internet browsing requires wouldn't push you past 2GB, those users looking to utilize this device as a heavy-duty workhorse, keeping open 10 tabs at a time while they're all playing streaming video... you might want the 4GB version. We're perfectly satisfied with the light edition.
The Quad-core 1.8GHz Rockchip RK3288C (ARM) processor inside with ARM Mali T764 graphics hasn't let us down yet. Not for playing web browser-based games and streaming Netflix, anyway.
What's Hot
The build on this machine is surprisingly great. ASUS is known for making high-quality PCs, certainly, but in this low-price, high-quality combination of a Chromebook, we're still caught off guard.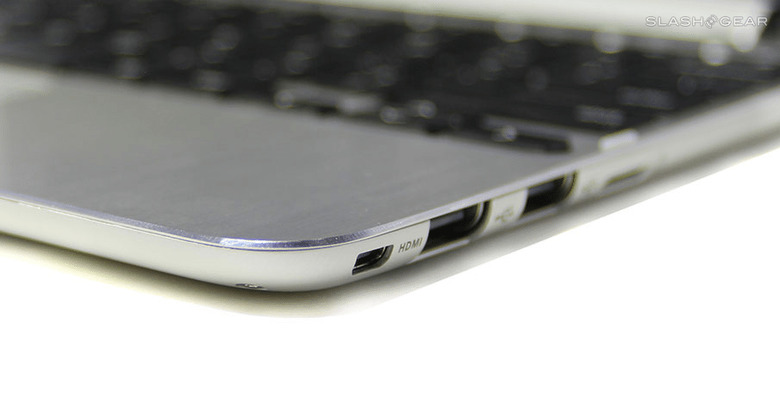 The weight and heft, the shiny edges, and the size and shape of the keyboard – all are very nice. Look at the keys on this keyboard. They're nice.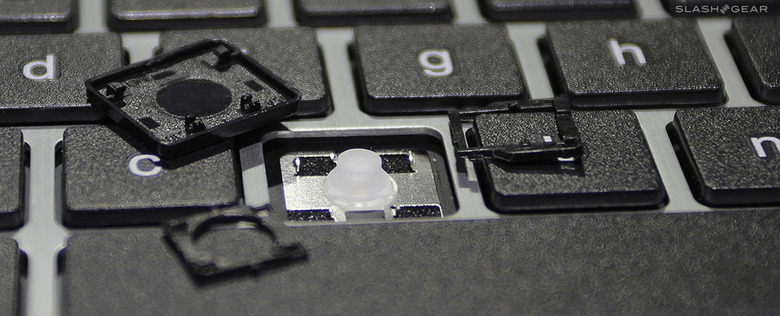 Even the trackpad, long a thorn in the side of most notebooks made by non-Apple companies for the past decade, even that is nice.
It's not the most fantastic trackpad ever made, but it's more than just usable. I can use it without getting annoyed at it. It works without having to think about it. That's good stuff.
What's Not
Chrome's touchscreen interface still isn't all that great. This UI is mostly based in the standardized web, which still isn't all that friendly to your finger. Smartphones are able to get away with less-than-fantastic web experiences still here nearly a decade after the smartphone market first took off.
Browsing the web on a touchscreen, even when it's big enough for a notebook like this – remains wanting.
Good news is, you can still use your keyboard. With this and the Chromebook Pixel it's more of a supplementary experience – every once in a while you want to tap. You can do that just fine.
Wrap-up
This Chromebook is pretty gosh-darned nice. ASUS did the right thing giving it a name that allows it to stand alone as a unique brand in and of itself – the Chromebook Flip. First of its name.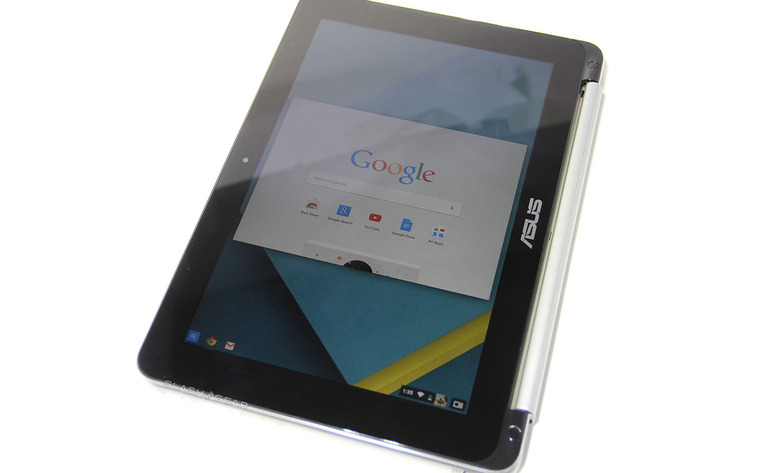 At either $250 or $300, depending on RAM (as outlined above), you're getting a pretty good deal. Remember that you're limited to what Chrome is capable of when you're picking this device up, and be sure to actually get your hands on this device before you buy to make certain it's the right choice for your unique set of needs.
If you want to be shiny and chrome, by all means. This is the machine you want.
The ASUS Chromebook Flip will be launching several weeks after this review is first posted. Stay tuned for additional details.