Aston Martin's mesmerizing Valkyrie hybrid hypercar just dropped jaws at the track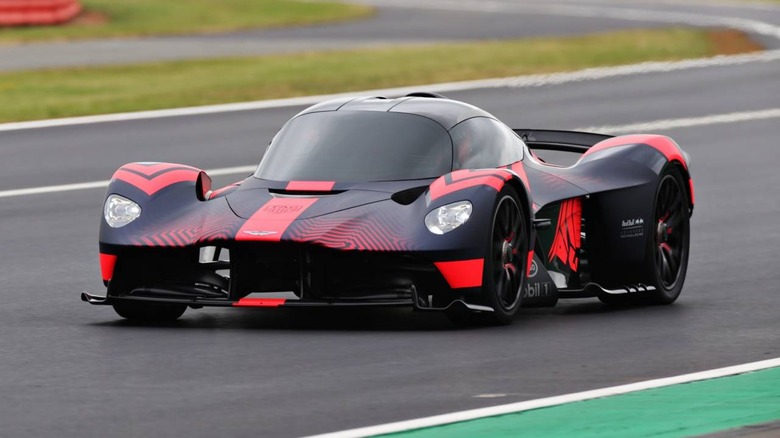 Aerodynamics have long played a unique roll in shaping performance car design, but the Aston Martin Valkyrie's first public appearance suggests aero plus extreme hybridization could make for even more striking supercars. The limited-edition British "hypercar" is a road-going racer, and it made its debut at the UK's Silverstone Grand Prix circuit this weekend, ahead of the 2019 British Grand Prix.
Silverstone is no stranger to unusual cars, and ahead of high-profile events like the Grand Prix it's not exactly difficult to find automotive exotica. Still, even by those standards, the Valkyrie is something else.
It's one of the first times that the Valkyrie has actually been driven in the physical world, Aston Martin sys. Though the car has been in development for some time now – long enough, indeed, for all 150 examples of the road-going version to be snapped up by future-owners – that's so far been predominantly in simulation. Digital modeling and virtual testing has given the automaker and its partner Red Bull Advanced Technologies time to refine and perfect the slippery design and potent drivetrain.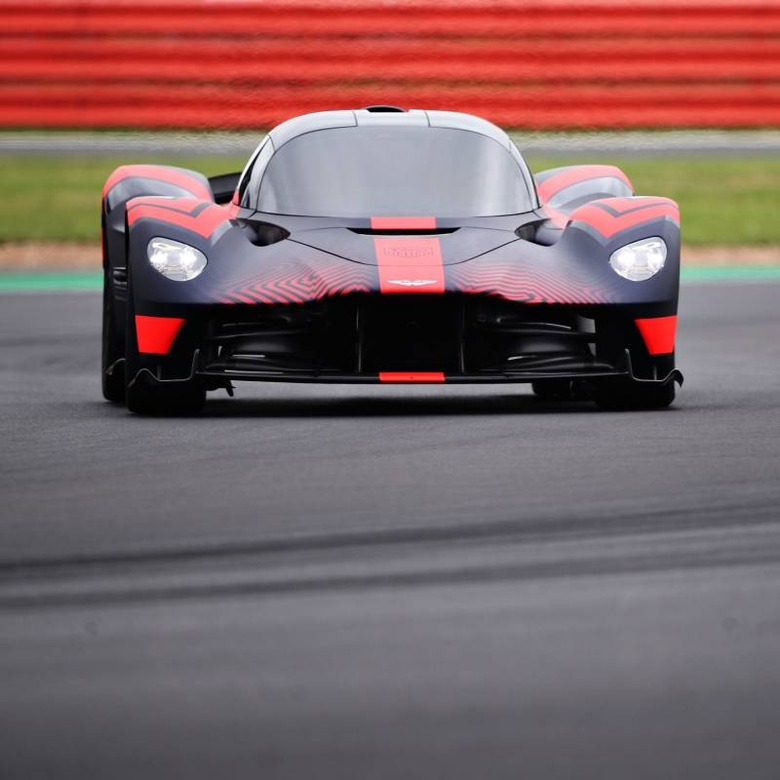 There's only so much you can do in the digital world, however, and Valkyrie buyers probably wouldn't be entirely satisfied were they presented with a USB stick containing their virtual car rather than an actual set of keys. Five years after Adrian Newey, Chief Technical Officer at Aston Martin Red Bull Racing, started sketching the original design, a prototype has rolled out under its own power. And that, as we already heard, is a lot of power.
It's a hybrid, but don't mistake the Valkyrie for a Prius. Aston Martin first drops in a 6.5-liter V12 engine, on its own capable of 1,000 horsepower and 546 lb-ft of torque. That's combined with a Rimac and Integral Powertrain battery-electric system, which add a further 160 horsepower and 207 lb-ft of torque.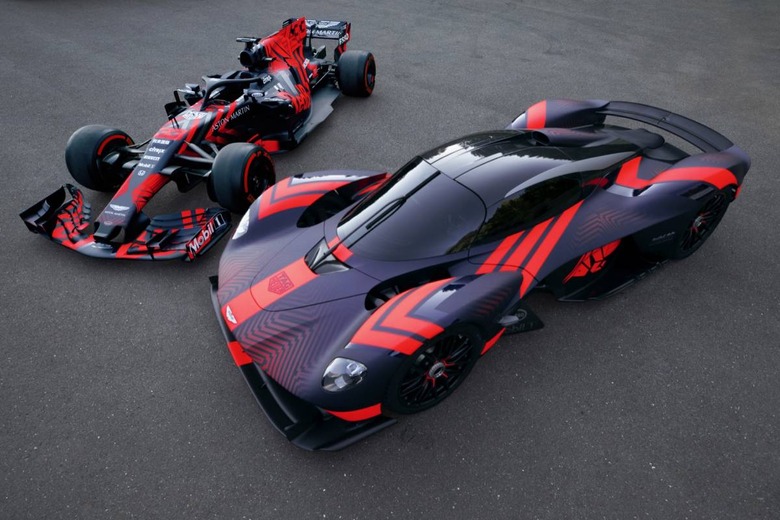 Altogether, you're looking at 1,160 hp at a crazy 10,500 rpm, and 664 lb-ft of torque driving at 6,000 rpm. Aston Martin hasn't said how fast that should add up to on either the road or the track, sadly.
The Silverstone appearance wasn't the Valkyrie at its full, unbridled best. Aston Martin says that the focus wasn't on lap times, and that this is really only the start of the physical testing process.
Still, it's a good chance to see just how otherworldly the Valkyrie looks when surrounded by the real world rather than digital backdrops. It's an almost skeletal-looking car from some angles, the gaping cutaways and minimalistic structure a direct result of how the engineers have designed the hypercar.
By having the V12 engine and gearbox casing double as stressed members of the Valkyrie's structure, for example, and then mounting the rear suspension directly to the gearbox, Aston Martin could do away with an additional rear subframe. High-tech and lightweight materials allow for seemingly wafer-thin support struts and other load-bearing parts, which on less extreme vehicles would be exponentially thicker.
The result is a hybrid unlike anything we've seen before. While what we really want – a lap performed in earnest – is still to come, it's clear that seeing a Valkyrie in real life is going to be memorable, even if it's just standing still. First deliveries of the road-going car should start in Q4 of this year.