The Aston Martin Valkyrie just got even faster and more lavish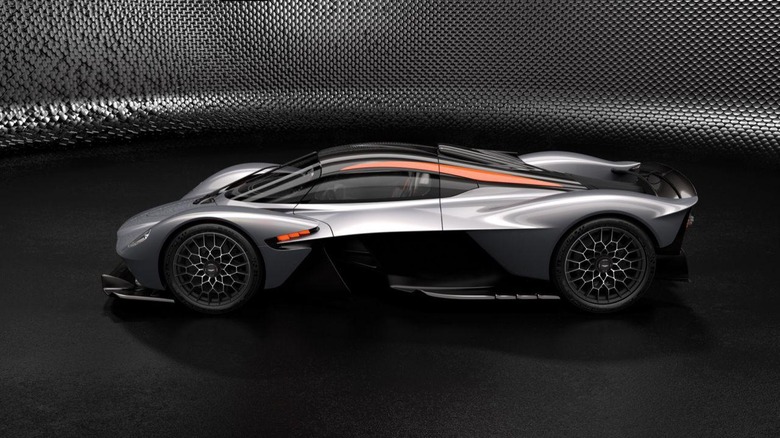 Nobody was going to accuse the Aston Martin Valkyrie of being slow, but a new AMR Track Performance Pack will coax even more out of the striking hypercar. Handiwork of Aston Martin and Red Bull Advanced Technologies, the Valkyrie – formerly known by its AM-RB 001 codename – has a naturally-aspirated, mid-mounted V12 engine paired with an electric motor.
That, the two companies promise, should deliver the best of both worlds. On the one hand, the 6.5-liter V12 developed with Cosworth should keep traditionalists happy with its soundtrack and power. At the same time, though, the electric motor enhances torque for a big power boost when the car accelerates. Altogether you're looking at 1,130 horsepower.
With a better than 1:1 power to weight ratio, an entirely carbon fiber structure with not a dash of steel in sight, and active suspension to keep the whole thing flat even when being pushed as hard as a professional racer, it's no surprise that Aston Martin has big expectations for the Valkyrie. However it has announced today that it has a way to make the hypercar even more potent.
That's down to the engineers at the Aston Martin Racing group. They've come up with a AMR Track Performance Pack for the road-going versions of the Valkyrie, of which 150 are being made. It consists of a set of track-only components, that can be switched out with the road-legal parts. The result is an approximately 8-percent improvement in lap times.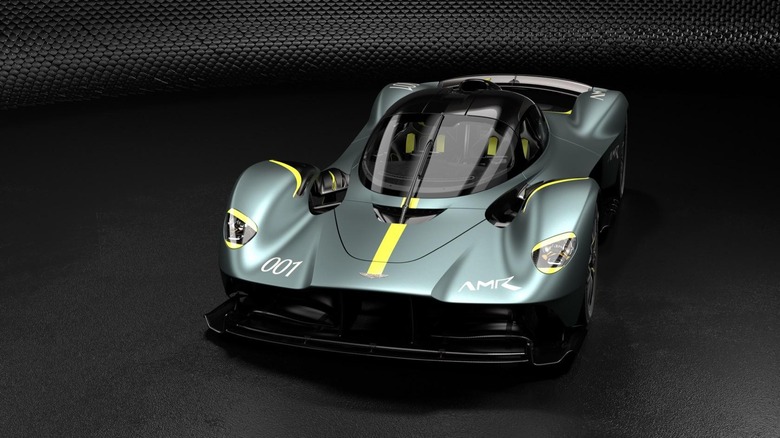 For example, there's a new aerodynamic front clam, which AMR says should add greater downforce and efficiency. Lightweight titanium brakes are included, too, along with track-focused suspension the includes revised dampers, torsion bars, and anti-roll bars. Matte black magnesium performance wheels and carbon-fiber aero-disks are thrown in, together with a whole second set of all of the car's other exterior body panels, useful should things go wrong on the track and your Valkyrie make an unwanted acquaintance with the wall.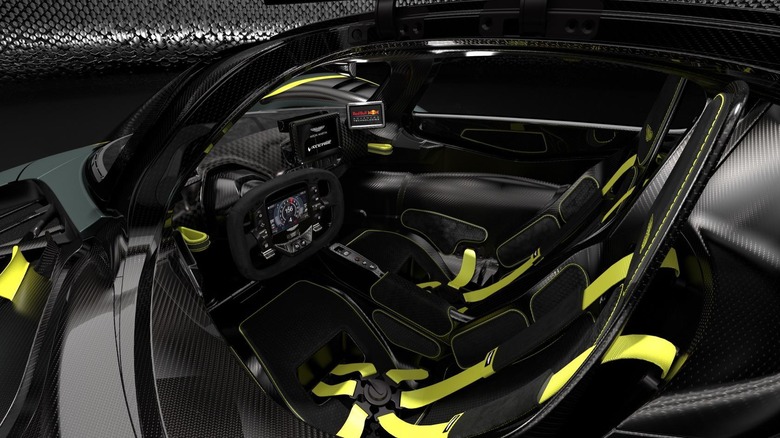 To go along with the pack, owners will be able to also pick up a suite of personalized pit garage and race suit accessory options. Three AMR livery designs will be on offer, or Aston Martin's Q commission service will be able to deliver a bespoke finish.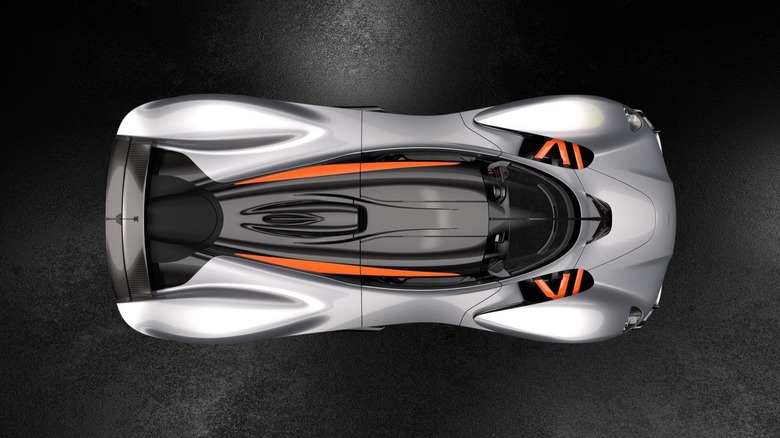 That same team will also be offering customized versions of the road-going car. Four so-called Designer Specification trims will be available, while the Q by Aston Martin – Commission service will be able to cook up completely unique variations. That includes a Gold Pack, which has 24-carat gold leaf liberty under the paint lacquer, and a Mokume Carbon Fiber pack, with "carbon jewelry" across the inner scoop of the headlights, sidepod vanes, armrest, central interior vent, and the steering wheel face plate.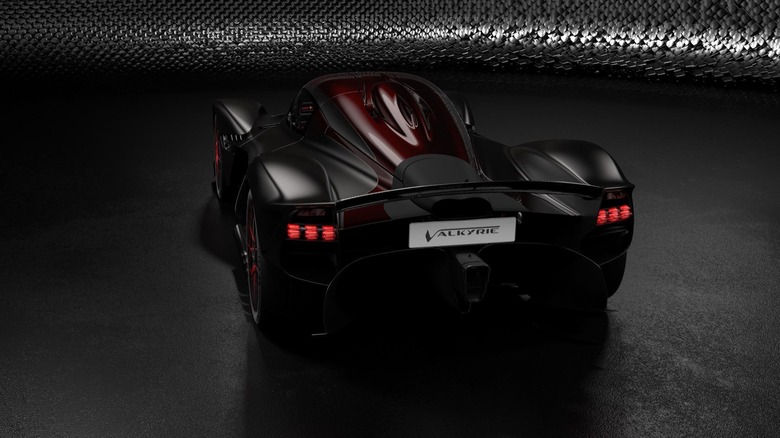 In the Ultimate Designer Specification, there's a fully-exposed satin carbon fiber body, with a red tinted roof and engine cover. Carbon fiber aero disks with bespoke graphic detailing and Satin Mokume carbon fiber exterior and interior trim are also included, as are red woven leather parts for the central armrest and door inserts. Red seat harnesses finish things up.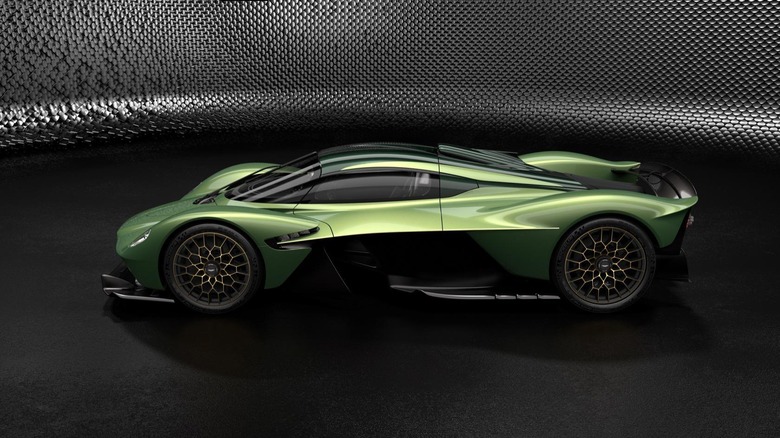 The Mantis Designer Specification, meanwhile, gets Iridescent Emerald paint and the Gold Pack. It has a green-tinted carbon fiber roof and engine cover, and Gloss Mokume detailing. Finally, the Spirit Designer Specification has Ethanol Silver paint and Caycous Orange exterior graphics. The wheels are matte black diamond turned aluminum honeycomb, with black calipers, while the roof and engine cover are exposed gloss lacquered carbon fiber. Black textured tailpipes, black anodized interior jewelry, and Alcantara interior trim round the pack out.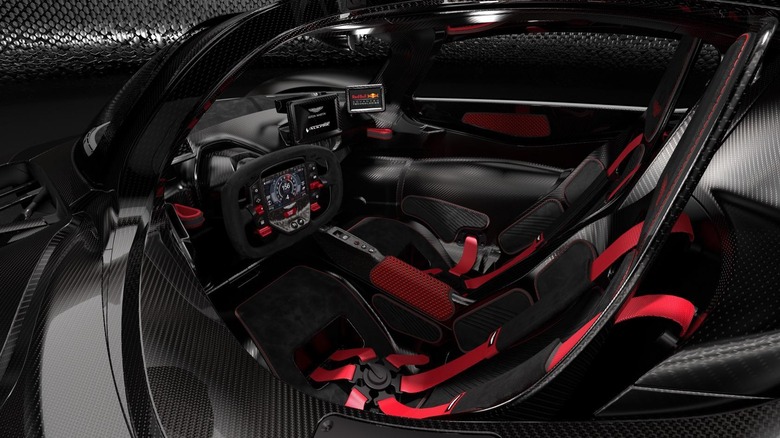 Even the switchgear can be customized. The key controls are on the steering wheel, and will be offered in anodized silver, black, or red. Titanium switches are another option. Deliveries are expected to begin later in 2019, with all 150 road-going cars sold at $3.2m apiece, and all 25 track-only Valkyrie AMR Pro cars snapped up too.