The Aston Martin RapidE EV just got into a race with Porsche's Taycan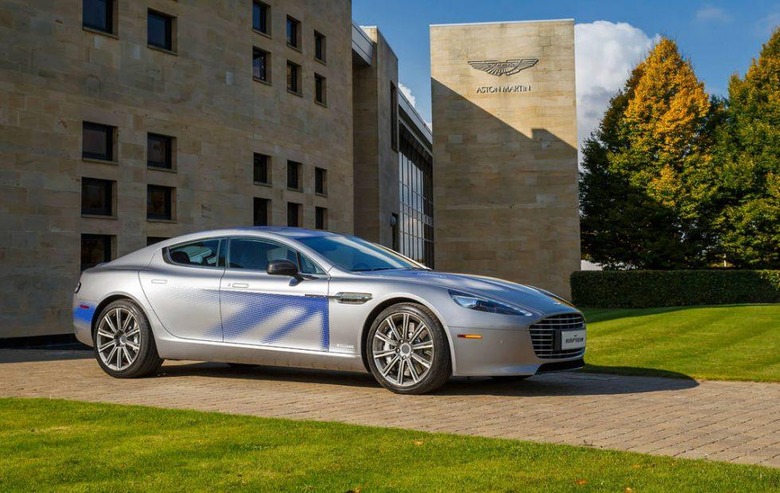 Aston Martin's RapidE EV may only be a toe dipped into the performance electric luxury market, but that doesn't mean the automaker is holding back when it comes to drivetrain and battery tech. The work-in-progress electric sedan is expected to arrive at the end of 2019, and Aston Martin is already predicting one big first for the industry – one which puts it head to head with a German rival
According to Andy Palmer, Aston Martin's CEO, the RapidE is likely to be the first car on the market to use an 800 volt system. Palmer shared a shot of the production-intent battery on Twitter, along with a recommitment to the idea that the car's "key attributes include the ability to have useable performance for laps of Nurburgring and a top speed of 155mph."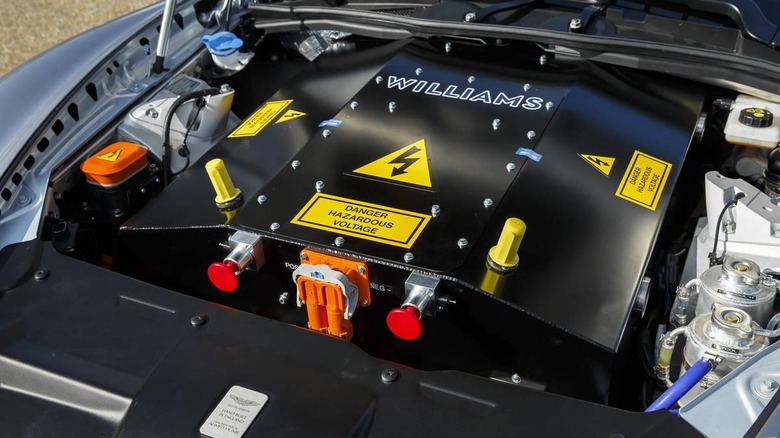 Considering it's a component most people won't ever see, it's no surprise that the battery system doesn't exactly look very dramatic. All the same, the technology is far more important than the aesthetics might suggest. After all, it's Aston Martin's play for making electrified luxury cars more user-friendly.
800 volt technology means considerably faster charging, and as such addressing one of the key complaints still lingering around electric vehicles: charge times. Current DC fast-charging stations typically top out at around 400 volts at most. With 800 volts, you're potentially looking at a sub-20 minute recharge, though Aston Martin hasn't committed to any specific figures yet.
A significant step forward on @astonmartin road to zero emission capability. This is the first production intent battery for the RapidE, Aston's first EV. The significance is it's also an 800v system, likely to be an industry first when launched to 155 lucky customers at end 2019 pic.twitter.com/UVmselGbCg

— Andy Palmer (@AndyatAston) August 21, 2018
Aston Martin isn't alone in looking to 800V to address recharging frustrations, mind. Volkswagen Group – and Audi and Porsche in particular – are both advocates of the technology, envisioning higher-voltage cars and chargers being the answer to placating luxury car buyers unwilling to compromise.
Actually getting to that stage requires an uptick in technology on both the vehicle and the infrastructure side, however. For a start, the car's electronics and battery system has to support 800V charging. Then, the charging stations themselves need to deliver that sort of voltage.
It means Aston Martin finds itself in a new race for high-end EVs. Porsche announced earlier this year that it would be installing 800V chargers as part of a pilot project in Berlin, and predicted it would be the first to have a production vehicle supporting the technology on the market. That will be the Porsche Taycan sedan – formerly known as the Porsche Mission-E – in 2019.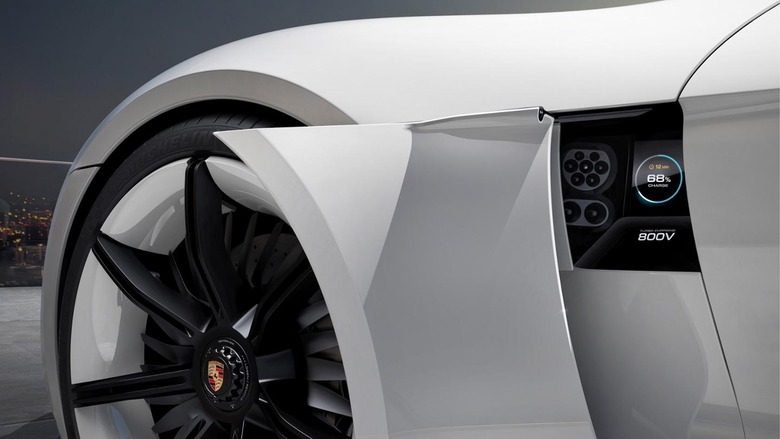 Audi, meanwhile, is expected to eventually adopt 800V charging, though its first EVs won't support it. The Audi e-tron Quattro SUV will be 400V, for instance. And whether Aston Martin or Porsche are first to the market will, for most drivers, be immaterial: you won't be able to install an 800V charger at home, and they'll be a rarity in public charging locations for some time.
Nonetheless it's a milestone for Aston Martin, which has faced more than the expected number of hurdles with the RapidE. The car was originally intended to be produced in collaboration with Chinese automaker LeEco, but after those plans fell through the British automaker dramatically slimmed its expectations. Now, only 155 of the cars will be built, each likely to be priced at more than a quarter of a million dollars.
Rather than a production model, therefore, the RapidE will be more of a testbed for Aston Martin's future electric vehicles. When, exactly, they'll go on sale is unclear at this stage, though the company has been teasing high-end luxury EVs like the Lagonda Vision as a vision of its intent.