Aston Martin is building 10 of Bond's SPECTRE DB10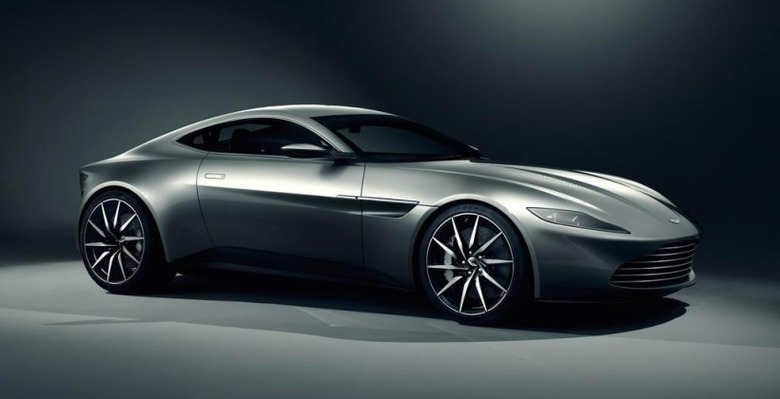 Aston Martin took center stage along with James Bond himself at the big "Bond 24" reveal of Spectre this morning, taking the wraps off the movie's automotive star, the DB10, at the same time. Now, the company has detailed its plans for a limited run of the eye-catching coupe, though it's unclear at this stage whether any will be offered up for private sale. Even if we do see some production DB10 on roads, however, they'll nonetheless be a very rare sight.
That's because Aston Martin will only make ten of the cars featured in the movie, the company has said today.
The "bespoke" cars will be built by Aston Martin's engineers and craftspeople at its Gaydon headquarters in the UK.
Aston Martin created the DB10 specifically for Spectre, opting to built it in-house rather than outsource production to one of the companies that specialize in creating unique movie props.
The expectation is that it will pack the usual assortment of weapons and gadgets, though so far exactly what those might be is unclear. Previous Bond cars have included machine guns hidden behind headlamps, rocket launchers in the distinctive Aston Martin grille, and perhaps most famously the ejector seat in the DB5 used in 1964's Goldfinger.
Aston Martin is no stranger to custom cars. In fact, the company has a special team responsible for one-offs and small-run models, called Q by Aston Martin.
It also developed the One-77 supercar, sold in small numbers between 2010 and 2012, with the group going on to create the Lagonda sedan which Aston Martin will only offer to luxe-hunting buyers in the Middle East.
Still, even if you can't get your hands on a DB10, the car's DNA will be filtering out through future cars from the company, it says.
The style of the Bond car is "a glimpse to the future design direction for the next generation of Aston Martins," it teases.
Spectre debuts in the UK in October, with the US opening in November 2015. Directed by Sam Mendes, it will see Daniel Craig reprise the role of Bond, across from Cristoph Waltz as the movie's villain.
SOURCE Aston Martin