ARM chips in 13% of computers by 2015 estimates IDC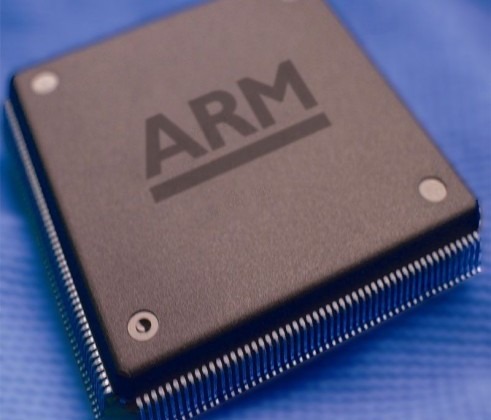 Research firm IDC is predicted that, by 2015, over 13-percent of PC processors will be based on ARM architecture rather than x86 chips from Intel, AMD or others. Revealed as part of the company's Q1 2011 microprocessor market share report, the figure reflects the rising popularity of the low-power chips which are set to make increasing progress into the server and mainstream PC market.
ARM revealed details of its first server processor earlier this year, used by Caldexa to produce a 2U box containing a total of 480 cores. Meanwhile, Microsoft has confirmed that it will support ARM chips in the upcoming Windows 8 OS, seen as recognition that the frugal processors will deliver better battery life – with no performance hit – for tablets and ultraportables than rival CPUs from Intel's Atom range.
That's further along the calendar, however; today, IDC reckons Intel holds 80.8-percent unit market share and AMD has 18.9-percent, both flat compared to Q4 2010. VIA has a mere 0.2-percent.
Press Release:
Worldwide PC Microprocessor Unit Shipments Up 7.4% Year Over Year in the First Quarter of 2011; IDC Upgrades 2011 Forecast to 10.3% Growth

05 May 2011

Mobile PC processors continue strong unit growth and positive effects on ASPs in 2011 but Japan of modest concern, processors based on ARM architecture enter long-term forecast

SAN MATEO, Calif., May 5, 2011 – Worldwide PC microprocessor shipments in the first calendar quarter of 2011 (1Q11) grew, compared to both 4Q10 (+1.6% quarter over quarter) and to 1Q10 (+7.4% year over year), according to the latest PC microprocessor market share study from International Data Corporation (IDC). Also, according to IDC's latest PC microprocessor market forecast, unit shipments for the full year 2011 will grow 10.3% compared to 2010 and market revenue for the year will grow 17.6% to nearly $43 billion.

"The first quarter, which is usually weak, was strong in terms of unit shipments, but surely benefitted from an extra calendar week," said Shane Rau, director of Semiconductors: Personal Computing research at IDC. "Both Intel and AMD grew unit shipments sequentially, which indicates some decent strength in their new platforms. Due to the first full quarter shipping their Sandy Bridge and Fusion microprocessors with integrated graphics processors (IGP), processors with IGP grew to slightly over 50% of market shipments for the first time."

1Q11 Vendor Highlights

In 1Q11, PC processor vendor shares overall were remarkably stable. Intel earned 80.8% unit market share and AMD earned 18.9%, both flat compared to 4Q10. VIA Technologies earned 0.2%.

In 1Q11 by form factor, Intel earned 86.3% share in the mobile PC processor segment, a gain of 0.2%, AMD finished with 13.4%, a loss of 0.1%, and VIA earned 0.3%. In the PC server/workstation processor segment, Intel finished with 93.9% market share, a loss of 0.3%, and AMD earned 6.1%, a gain of 0.3%. In the desktop PC processor segment, Intel earned 72.4%, a loss of 0.1%, and AMD earned 27.4%, a gain of 0.1%.

2011 and Long-Term Market Outlook

In a separate study, IDC's slightly raised its forecast for year-over-year growth in PC (mobile, desktop, x86 server) microprocessor unit shipments in 2011 from 10.1% to 10.3%. "Generally, the demand environment for the second half of this year looks decent. The earthquake and tsunami had minor effects on the PC supply chain," added Rau. "However, the real near-to-mid term concern there is the effect on Japanese demand for PCs and so microprocessors."

For the first time, IDC is forecasting PC microprocessor units by processor architecture, including those based on x86 and those based on ARM. By 2015, IDC expects that over 13% of PC processors will be based on the ARM architecture.

The IDC report, Worldwide PC Microprocessor 1Q11 Vendor Shares (IDC #228073), provides worldwide market share results for PC microprocessor vendors on an overall unit and revenue basis, as well as by form factor (desktop, mobile, and x86 server). The IDC report, Worldwide PC Microprocessor 2011-2015 Market Forecast (forthcoming), provides the outlook for the same basis and form factor and adds a forecast for unit shipments by processor architecture, including x86 and ARM.