Archos Xenon tablet range makes no qualms with early iPad comparisons

This week the folks at Archos have decided to let their whole second half of 2013 strategy out in the open with a release that shows off their tablet (and smartphone) range. What we're seeing here first is a collection of tablets – large and small – aimed directly at Apple and Samsung competition, made to add to their current set of internationally-released devices already on the market. We'll likely see these devices up close and personal at Berlin-based IFA 2013 as well, early next month.
What you'll be seeing first is the Archos ChildPad. This device is made to join the likes of the new Samsung Galaxy Tab 3 Kids in the child-friendly tablet arena that – apparently – is a growing enterprise. This device will be working with Google Play and full parental controls to command app choices. This tablet will also be working with "101 Childpad", aimed at connecting the world of physical objects with the digital device with magnetic figurines.
NOTE: The images you're seeing above and below are of past-generation devices; devices that are out on the market now. Archos has not yet released official renders or photographs of the future range set for full reveal in early September.
The Archos Gamepad 2 will take on the second generation of what was originally released back in March of this year – have a peek at our 7-inch Gamepad tablet hands-on here to see what's about to be rebooted with boosted specifications.
Archos will be bringing on a "Gen11" tablet by the name of 101xs2, made with a quad-core processor and an HD (720p) IPS LCD display with front-facing dual stereo speakers. This device will also work with Archos' newest magnetic keyboard functionality. The Platinum range from Archos will feature quad-core processors, aluminum designs, Android 4.2 Jelly Bean with wireless display technology, and IPS LCD displays with "up to" 2048 x 1536 pixel resolution.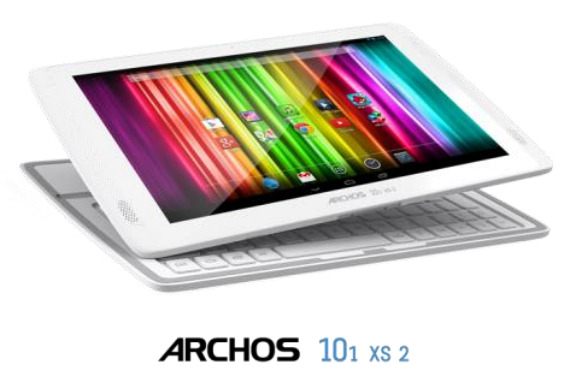 Also appearing is a new Archos Xenon range of 3G-connected tablets working with HD displays, quad-core processors, and Android 4.2 Jelly Bean. Archos mentions specifically that they'll be selling these connected devices "cheaper than Apple or Samsung Wi-Fi tablets." While this could be good news for Archos given their ability to deliver Android devices quickly and relatively inexpensively, it'll be quite a feat to run up on the Samsung Galaxy Tab 3 family and the iPad 5 (in a likely reboot before the end of the year.)
IFA 2013 begins on the 6th of September, but the festivities will be starting as early as the 4th. Stick around SlashGear's IFA 2013 tag hub for more information from here until then!