Archos Android MIDs A5S and A5H revealed in FCC filing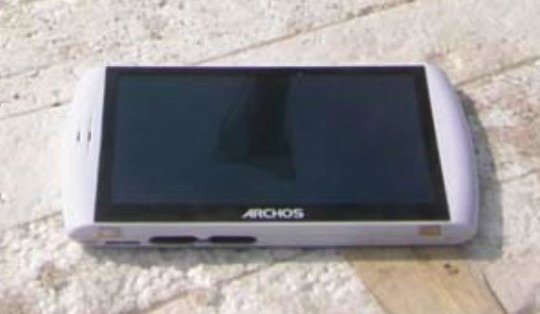 Archos' upcoming Android MID has been prematurely outed by the FCC, ahead of its expected launch on September 15th.  The Archos A5S (model 7501) Internet Media Tablet – a second, sibling device, the A5H (model 7502) was also mentioned in the user guide – bears a strong resemblance to the company's existing Archos 5, has a 5-inch (or possibly 4.8-inch) touchscreen display and includes WiFi b/g/n, Bluetooth 2.1+EDR and an FM transmitter/receiver.
There's also talk – in the user manual at least – of integrated 3G data connectivity, though the FCC do not mention it as part of their A5S testing.  It's possible that 3G WWAN is reserved for the A5H 7502.  As for wired connectivity, there's a microSD card slot and a microUSB port, together with some sort of docking connector.
Only one image of the Archos Android tablet powered on is shown, but that seems to indicate that the company have crafted their own custom UI on top of the Google OS.  Unfortunately the image isn't clear enough to fully make out all the details, so we may have to wait until September 15th to find out exactly what Archos have in store.
[via Engadget]