Archos Android Internet Tablet Event Announced For September 15th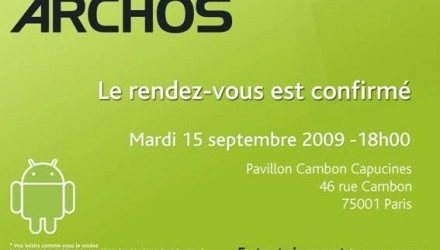 As promised, Archos have announced that they will be holding a press conference on September 15th where star of the show will be their new Android Internet Tablet.  The company has also launched AppsLib, a new directory for developers and the Android apps they create for "high-end Android devices"; that site lists development guidelines for the touchscreen device as using a 5-inch WVGA display, with 720p video support, an HDMI output and native OpenGL libraries.
Those specifications tally with the early talk of what the Android Internet Tablet might bring to the table, which also included such niceties as up to 500GB of storage, integrated 3.5G connectivity and runtimes of around 7hrs when playing video content.  Under the hood lurks Texas Instruments' OMAP 3 platform for what Archos describe as "laptop-like performance".
Registration to AppsLib is free until September 15th – no word as to what happens beyond the Internet Tablet's official debut – and the aim is apparently to make its repository of software available on Android devices from various manufacturers.  To be honest, we'll be glad to just see one; the leaked images of the unnamed Android MID we've been seeing lately have given us a taste for Android on a bigger touchscreen.
[via Pocketables]