Archos Android MID coming Q3 2009: HD, HSUPA and just 10mm thick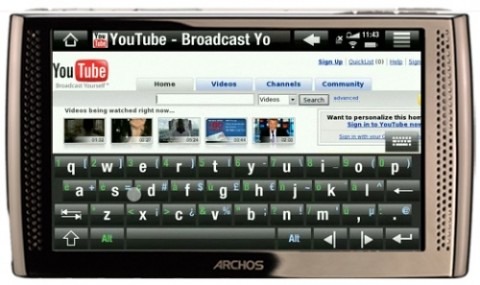 Archos have announced plans to launch an Android-based Internet Media Tablet, that would deliver not only the high-definition media playback of the company's existing range, but offer voice communication, wireless connectivity and access to the Android Market of smartphone applications.  The Android IMT measures just 10mm thick, and has a 5-inch high-resolution touchscreen, up to 500GB storage and uses Texas Instruments OMAP 3 platform for "laptop-like performance".
The company is promising up to 7hrs video playback from a single charge, while for wireless connectivity the device will have 3.5G HSUPA/HSDPA for up to 7.2Mbps downloads.  We're also hearing about broad video and audio codec support, including DivX, Adobe Flash and full-screen Flash video, together with TiVo-style TV recording and possibly an integrated DVB-SH digital TV tuner.
Grunt is courtesy of the TI OMAP3440 applications processor, with the company also providing the connectivity and analog products.  Archos expect the Android Internet Media Tablet – which to be honest sounds like a killer MID – to hit the market in Q3 2009; we're hoping they'll bring something along to show us next week at Mobile World Congress.
[via Android Community]