Archos 9 UMPC video demo; Android PMP coming September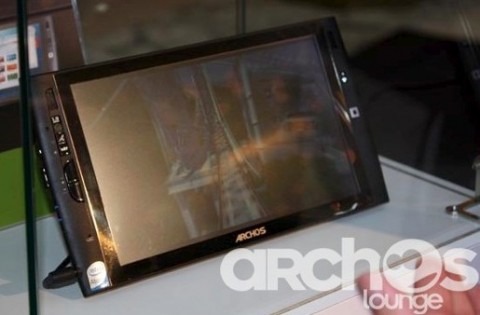 Archos' press event yesterday fell short of delivering the Android tablet many had suspected was on the cards, but CEO Henri Crohas did spare a few words in his keynote about the company's Android development.  What they did announce was the Archos 9 PC Tablet, and ArchosFans were on-hand to grab a video demo.
More details, plus Archos 9 video demo after the cut
The Archos 9 has an 8.9-inch 1024 x 600 touchscreen, an 80GB hard-drive and Intel Atom Z515 1.2GHz processor; it has Bluetooth and we're presuming WiFi, together with a dual-antenna DVB-T digital TV tuner.  Interestingly, it's the first announced UMPC-style device confirmed to ship with Windows 7 as standard, and it's expected to arrive in fall 2009.  More details here.
As for Android, Archos' core R&D team is apparently still working on the device and developing the version of the platform that it will run.  They're expecting to announce it on, or before, September 15th at another event; in the meantime, they'll be releasing more Intel/Microsoft based devices.
Archos 9 PC Tablet hands-on:
Archos on Android: