Archos 9 PC Tablet unveiled: Windows 7 Atom UMPC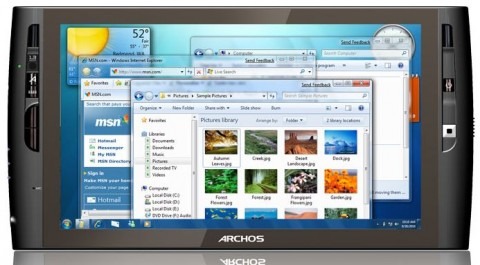 The Archos press event was today, but contrary to our expectations the company didn't take the opportunity to whip out their Android tablet.  Instead, they brought this behemoth: the Archos 9 PC Tablet, an 8.9-inch touchscreen UMPC running Windows 7 on an Intel Atom Z515 1.2GHz processor.
Updated with full specifications after the cut
There's also an 80GB hard-drive, Bluetooth and WiFi connectivity, and a dual-antenna DVB-T digital TV tuner.  The whole thing measures 256 x 134 x 16 mm and weighs less than 800g, while the display runs at 1024 x 600.
Control is either via the touchscreen or an optical mouse on the right-hand bezel, while connectivity includes a VGA output, USB 2.0 port, 1.3-megapixel webcam and optional 3.5G HSPA WWAN.  According to Archos Lounge, who shot the two live photos in the gallery below, the Archos 9 PC Tablet will arrive in fall 2009, priced from €500 ($705), and be followed in early 2010 by a 12-inch version.
[Thanks Cristian!]